Inverse Daily: America's top source of stress revealed
The greatest single source of stress for people in the United States has been revealed by a new survey.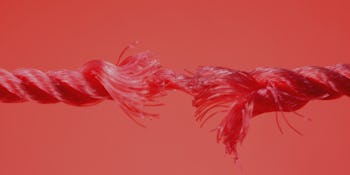 While I ponder if I should upgrade to the Microsoft Surface Pro 7, soak your brain in some Inverse juice this Thursday morning.
We've got a grim new report on an e-cigarettes study, a thought-provoking survey on the top source of stress among Americans, and a NASA photo that will make you feel very small and hopefully very good about your place in the universe.
I'm Nick Lucchesi, executive editor at Inverse, and this is Inverse Daily. Today is going to be a good day for you.
Dont forget: It's the last day of our Sonos One Speaker and Apple AirPods sweepstakes. All you have to do is enter your email here and we'll announce the winner in tomorrow's email. Good luck!*
This article is an adapted version of the Inverse Daily newsletter. Subscribe for free and earn rewards for reading every day.
INVERSE QUOTE OF THE DAY
"Vegetation can provide a solution for cleaning up air that's economically more attractive, and also environmentally and socially more attractive than technology."
— Ohio State University professor Bhavik Bakshi.
5 terrifying new facts about e-cigarettes
New analysis indicates that using e-cigarettes can put a person at an increased risk of cardiovascular disease. As a whole, this body of research indicates that vaping can harm the heart through various mechanisms, including oxidative stress, inflammation, DNA damage, arterial stiffness, platelet activity, and altered hemodynamics.
Inverse mind & body editor Sarah Sloat reports that more robust research is needed to say exactly what about e-cigarettes drives these effects. The authors behind the review point to nicotine, particulate matter, metals, and flavorings as potential contributors to cardiovascular problems.
Flavorings stand out as a particular cause for concern, because the majority of studies evaluating the effect of e-cigarettes on the cardiovascular system neglect to evaluate flavoring as a variable. Little is known about how vape flavoring chemicals affect the body — but what is known is that they are listed as a major reason for why young people start vaping in the first place. Other recent research shows that about 1 in 4 high school students use electronic cigarettes and 72 percent of them vape flavors like fruit, menthol, and mint.
Related stories:
US teens' top source of stress is now the nation's biggest worry
Mass shootings are the greatest single source of stress for people in the United States, according to the 2019 Stress in America survey. And that's changing how almost a quarter of all Americans live their lives.
Inverse senior science editor Claire Cameron writes that more than 7 in 10 Americans (71 percent) find the threat of mass shootings extremely stressful — the stress is especially bad among people of color. Some 85 percent of people who identified as Hispanic and almost 8 in 10 Black and Asian-American respondents say these atrocities are highly stressful.
The new report builds on the 2018 Stress in America survey's finding that high schoolers aged between 15 to 17 were most likely to be stressed out by gun violence.
Go deeper:
NASA's giant cameras capture 29 exoplanets in an incredible single image
NASA has released an image of the southern sky in impressive detail, and it could unlock the secrets of the universe.
The Transiting Exoplanet Survey Satellite, also known as TESS, is the successor to the Kepler satellite aimed at collecting images of faraway stars and measuring changes in light. If the light drops, it could suggest a planet in orbit.
Inverse staff writer Mike Brown reminds us that SpaceX launched TESS on a Falcon 9 rocket back in April 2018, and it's spent the past year observing half of its programmed 26 sectors of the sky. The end result is an image that captures a staggering 29 confirmed exoplanets, plus a further 1,000 candidates.
Considering how NASA's database only holds 4,084 confirmed exoplanets, TESS could make a major contribution to humanity's understanding of outer space.
More stories about the search for exoplanets:
Mic Check
Like you, we spend a lot of time on the internet. We also spend a lot of time managing the stress that comes with staying informed.
Mic Check is a place where we can work through what's happening in the world together, and have a little fun in the process.
For a daily morning brief on politics and culture, sign up here →
Family bonds are more important to health than romantic relationships
Navigating life as a lone wolf can threaten your health. Decades of research show close friendships, intimate partner relationships, marriages, and family ties all help you live longer and healthier. But exactly which relationships have the strongest health-boosting effects has been mysterious, until now, scientists say.
Alexandra Pattillo reports that troubled family relationships harm health more than weak romantic relationships, according to a new study in the Journal of Family Psychology. The research shows strained family bonds led to the development or worsening of chronic conditions like strokes and headaches over a 20-year period in mid-life. The research team didn't find any health effect of intimate partnerships, a surprising finding that goes against the grain of previous research.
Fighting with your mother or brother may be worse for you than fighting with your significant other, the study suggests.
The more you know:
Researchers have developed a durable robot bee
Researchers at Harvard have developed a robotic bee that can handle crashing into a wall or the ground.
But as Thor Benson reports for Inverse, these aren't the bees you saw in Black Mirror. The researchers say these flying robots could be good during a disaster scenario, as they would be durable and able to fit in small spaces.
"There has been a big push in the field of microrobotics to make mobile robots out of soft actuators because they are so resilient," says Yufeng Chen, a postdoctoral fellow at Harvard. "However, many people in the field have been skeptical that they could be used for flying robots because the power density of those actuators simply hasn't been high enough and they are notoriously difficult to control. Our actuator has high enough power density and controllability to achieve hovering flight."
Robots like this could find their way into dangerous and narrow areas to discover if there are survivors after a building collapse, during a fire, or in several other scenarios. The robot being able to take a hit means it could handle whatever debris it might be struck by. It also wouldn't be severely damaged if it ran into a wall.
More from the world of robotic bees:
Born on this day
The physicist and chemist Marie Curie was born in 1867 in Warsaw, Poland. She famously said, "Nothing in life is to be feared; it is only to be understood. Now is the time to understand more, so that we may fear less."
That's a great place to leave it for today.
Meanwhile …
Inverse Loot
Subscribe to Inverse Loot and learn about these deals first.
*This is a sponsored post.
That's all for today!
Thank you for reading, and if you have a suggestion for how to make this newsletter better, drop me a line at nick@inverse.com. And follow me on Twitter, where I retweet the best of Inverse every day.
*The Upgrade Your Audio Sweepstakes is open to residents of the 50 United States and D.C., age 18 or older. Void outside the United States, in Puerto Rico, and wherever else prohibited by law. Sweepstakes begins at 12:01 AM ET on November 4, 2019 and ends at 11:59 PM ET on November 8, 2019. Click here for the Official Rules. Sponsor: BDG Media, Inc., 315 Park Avenue South, 12th Floor, New York, New York 10010