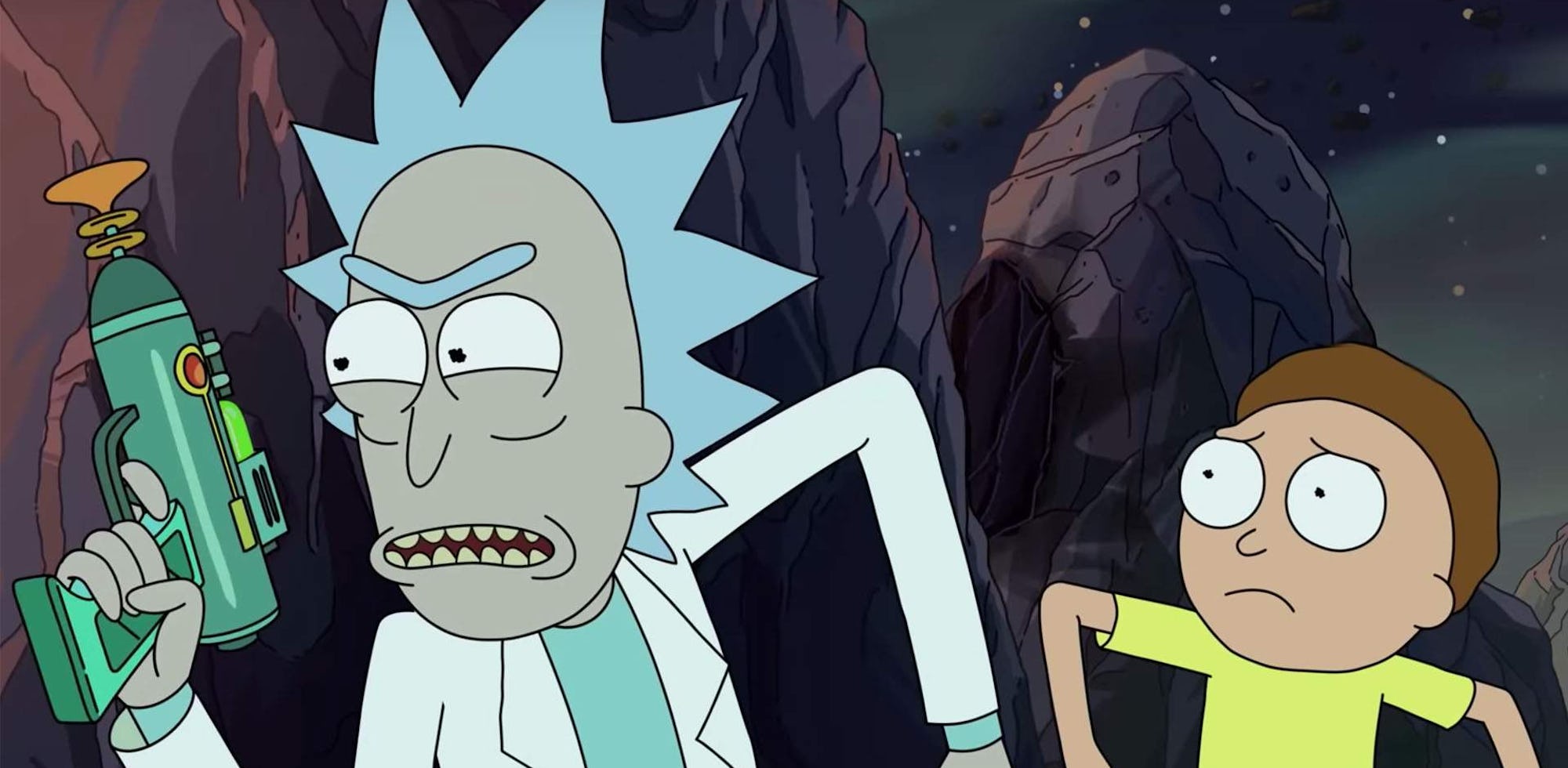 Entertainment
Review: 'Rick and Morty' Season 4 Episode 1 is the most mind-bending yet
It's really starting to feel like 'Rick and Morty' can go on forever.
Adult Swim
After more than two years on hiatus, Rick and Morty is back in a big way with a Season 4 premiere that is the most chaotic, frightening, and gruesome episode the series has ever seen. It's also one of the best.
Titled "Edge of Tomorty: Rick Die Rickpeat," the episode, which debuts Sunday on Adult Swim, riffs on Tom Cruise and Emily Blunt's film Edge of Tomorrow: Live, Die, Repeat in unexpected and bizarre ways by exploring what characters can learn from a myriad of potential deaths. In the movie, Cruise dies thousands of times in a battle against alien invaders, but his memories carry over (think Groundhog Day meets Independence Day). Rick and Morty spins off of this concept in creative ways. Someone in the writers' room really loves alien sci-fi films from the mid-2010s, as one particular moment also feels like a nod to Arrival.
This being Rick and Morty, the movie the episode title riffs on merely serves as a source of inspiration and doesn't really influence the plot directly. Even so, you can feel the homage to that sci-fi classic throughout.
The A- and B-plots veer into alternate timelines and incorporate fun sci-fi gadgets both new and old while also throwing in startling bits of body horror and trans-humanist themes. (It wouldn't be Rick and Morty if it didn't blend an assortment of ideas into a tight 23-minute episode.)
"Morty goes nuts this time dawg," the episode's official description reads. "Rick does stuff. Season 4 premiere broh." Spoiler alert: Morty does kind of go nuts.
"Morty goes nuts this time dawg."
Cryptozoic and Cartoon Network Enterprises announced a new board game called Rick and Morty: The Morty Zone Dice Game Wednesday, confirming that it's based on the premiere. "Oh boy, you've done it now," the description reads. "You grabbed a Death Crystal and can see all of your potential fates."
Death Crystals are indeed the main plot hook for the episode introduced almost immediately, allowing anyone who touches them to perceive how they'll die. But every decision a person makes alters their fate, so their death is always changing. Collecting these crystals is another shameless business venture of Rick's, but things go off the rails very quickly.
The cover of the dice game depicts Morty with a crystal on his forehead and eyes aglow with the same vest and gear on his body as we see in the "Akira-type situation" featured in the Season 4 trailer. Morty's transformation comments on toxic masculinity and why someone who hasn't even fully matured yet should never get too much power.
The way the episode incorporates this Death Crystal mechanic feels earth-shattering once things jump into high gear, but the story course-corrects to a sense of normalcy by the end — as Rick and Morty often does — making good on Beth's promise in the final moments of the Season 3 finale that "things will be like Season 1 but more streamlined."
Season 3 explored how Beth and Jerry's separation impacted their children, but after they reconciled with one another in the Season 3 finale, we began to see them in a happier marriage for the first time (in this reality, anyway).
Jerry moved back into the house, Beth found peace of mind despite doubts that she might be a clone, and a more wholesome vibe developed between all members of the family — except for Rick. Everyone presents a united front against their mad scientist grandpa.
"Dad, you can't talk to Jerry that way anymore," Beth said at the end of Season 3. "We're a real family now. In many ways, things will be like Season 1 but more streamlined. Now Jerry and I are happily married parents, and the idea that I was motivated by a fear of you leaving can be eschewed."
The first and last few minutes of the Season 4 premiere grapple with what the new status quo of Rick and Morty looks like, and, at first, this feels a bit frustrating because it really is different.
Rick is frustrated that the family's turned on him, and he suddenly has to be nice to Morty. But very quickly, every member of the family — and the show itself — realizes the folly of treating Morty with too much respect. Every time we've seen Morty have too much control before, bad things happen. In "Meeseeks and Destroy," a giant died and Morty was almost assaulted. In "Vindicators 3: The Return of Worldender," the emotional conflict with Morty drove Rick to get drunk and kill the Vindicators. Most people would say that was Rick's fault, but wasn't it kind of Morty's fault?
It's really starting to feel like Rick and Morty can go on forever
Somehow, when Morty gets even more freedom, the stakes feel almost apocalyptic. But "Edge of Tomorty" is able to execute a hard refresh for the series that makes it feel like anything is possible for the future of Rick and Morty. Now, more than ever before, it feels like Rick and Morty can go on forever, making good on Rick's promise in the Season 3 premiere when he proclaimed "a hundred years of Rick and Morty" while foaming at the mouth and screaming about Szechuan sauce.
When Rick and Morty was picked up for 70 more episodes by Adult Swim in May 2018, some fans, myself included, worried that too much of a good thing might become "meh" over time, but the Season 4 premiere proves the opposite.
Now that the future of Rick and Morty isn't in question and production can continue through Season 5 and well beyond without delay, Adult Swim's mature sci-fi series could develop into the next Simpsons, using characters that never age or change all that much for a seemingly endless array of stories.
For the first time in the history of the series, that truly feels possible.
Rick and Morty Season 4 airs Sundays on Adult Swim at 11:30 p.m. Eastern.