5 smart home solutions that will genuinely upgrade your quality of life
Improve the way your home functions with these smart home solutions.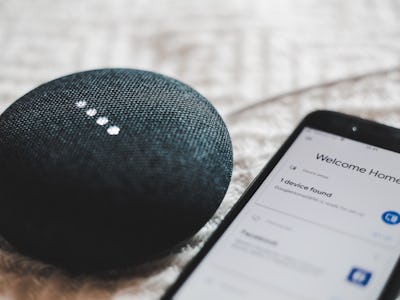 Unsplash / BENCE BOROS
It's 2019 and we've entered the era of convenience. Every thing has an app—dog walking, grocery and take out delivery, handyman services—you name it and you can get it right to your door for a slight up charge. Your home is no different in this regard.
Forget getting up to turn the lights on and off, you can schedule them! Need to vacuum, just pull out your app! In bed for the night but feeling a little stuffy, adjust the thermostat right from your phone! Even more than that, you don't even have to upgrade all your devices if you just get a smart plug. Then you can control the outlet the device is plugged into with an app, hereby making your "dumb" appliances smart.
Below you'll find the 5 smart home solutions that will improve your quality of life manyfold.
Why We Picked It: You don't need to replace everything in your home to turn your "dumb house" into a smart house. With the addition of just a couple of these Amazon Alexa Smart Plugs you can use voice control on any of your existing lamps, appliances and more. No smart hub is required to make it work and because of the slim design, it enables you to either double up on smart plugs or continue using your bottom outlet as usual. All you have to do is open the box, pair it with the Alexa app on your smartphone and you're ready to use it.
Why We Picked It: Who doesn't want a home security system that doesn't cost an arm and leg, several appointments and finicky placement to get working? This completely wireless home security system includes 2-way audio and 1080p HD footage and works as soon as it's taken out of the box. Though it's perfectly weatherproof, the Arlo Smart Security System is ideal for use inside and outside of your home. Love it so much you want to add more cameras? You can purchase an add-on camera at any time and seamlessly blend it with your existing system.
Why We Picked It: Imagine having a thermostat you never have to touch but is always perfectly set to your preferences. Right out of the box, you can connect it to WiFi and from there, your Nest Learning Thermostat is able to check the weather, sense how your home retains temperature and make adjustments based off of your preferences. You can use the app—or voice control—to set an auto-schedule and Home/Away Assist to automatically raise or lower the temperature when you're out of town or sleeping. Your thermostat will learn to adjust accordingly within a week.
Why We Picked It: In a world where Amazon deliveries could come at any time and go missing just as fast, it's important to have a secure location to receive your packages. This MyQ Smart Garage Door Opener from Chamberlain allows you to open—or close—your garage door from anywhere you have access to your smartphone and with Key by Amazon, you can even have your courier securely place packages behind your garage door and rest easily. This garage door opener will give you notifications whenever the door opens or closes, will allow you to grant easy keyless entry to dog walkers, cleaners and out of town family members and is easy-to-add to any existing garage door.
Why We Picked It: Control your home's light system with your existing smart home hub such as Apple Homekit, Amazon Alexa, Google Assistant or the [sold separately] Phillips Hue Smart Hub. Once set up, you can use the sound of your voice or your smartphone to schedule when your lights turn on and off, which is ultra convenient for vacations when you want to appear as if you never left. Seamlessly add or subtract other Hue bulbs at any time and even get notifications for when it's time to replace it.