How e-cigarettes impact health may depend on one rather innocuous aspect
Researchers should pay attention not just to e-cigarettes themselves, but to their flavor, too.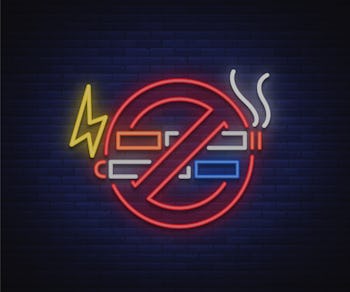 Shutterstock 
A trio of new studies investigating the health effects of smoking electronic cigarettes is united by one seemingly innocuous aspect: e-cigarettes' flavors. How these flavors affect the body is a mystery. But what we do know is that they are extremely popular, they are beloved by teenagers, and they could be quite dangerous.
A new analysis published Thursday in the journal Cardiovascular Research finds that pre-clinical and epidemiological studies of e-cigarette use show that it may increase the risk of cardiovascular disease.
As a whole, the 27 studies included in the analysis suggest that vaping harms the heart through various mechanisms. It may cause oxidative stress, inflammation, DNA damage, arterial stiffness, platelet activity, and altered blood flow, among other problems.
"The risk that e-cigarettes pose to heart health is at the point where we still don't conclusively know exactly what their effects are," study co-author Nick Buchanan, a researcher assistant at Ohio State University, tells Inverse.
But the nicotine, carbonyl compounds, particulate matter, metals, and flavorings in e-cigarettes can all have adverse effects on the cardiovascular system — that should be cause for concern, Buchanan says.
The flavor factor
The flavoring used in e-cigarettes is of particular worry, the analysis' authors say. The majority of studies that have evaluated the effects of e-cigarettes on the cardiovascular system focus on nicotine and don't look at the role flavoring might play. The few studies that do indicate that the chemicals used to flavor vape juice can cause oxidative stress and inflammation, which is an early predictor of heart disease.
That flavorings have the potential drive cardiovascular disease could have an outsize impact on teenagers, especially considering that teenagers often choose to vape because of the flavorings. One in four high school students and one in ten middle school students reported vaping at least once in 2019, according to a separate study published Tuesday in the journal JAMA. In total, 4.1 million high schoolers and 1.2 million middle schoolers in the US are vaping, the study suggests.
These numbers are worryingly familiar: In 1976, before it was widely known that cigarettes are bad for your health, a similar number of 12th graders — 28.8 percent — said that they smoked.
Back in the present day, it is the flavors that seem to make all the difference in whether or not a teen smoked vapes at all. In the group of students who used e-cigarettes but didn't use other tobacco products, 72 percent of high school students and 59 percent of middle school students favored vapes that tasted like fruit, menthol, mint, and candy, according to the study.
A second study, also published on Tuesday in JAMA, found that mint was the most popular flavor among teens who used a JUUL for a sustained period of time. That's notable: JUUL has voluntarily suspended the sale of fruity and other sweet flavors, but mint is still on the market.
The e-cigarette market needs to be better regulated "so that we know the reality of what users are being exposed to," says Buchanan.
"There are a number of critical questions that still need to be answered," Buchanan says. "But I think the most important is what are going to be the long-term health effects for users decades down the road from now, particularly for teens and young adults."