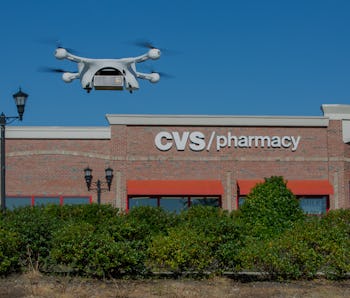 Innovation
UPS delivers medication using drones for the first time
Need some meds? Get ready for drone drop off.
UPS
UPS just successfully delivered prescription medication from a CVS Pharmacy to someone's home for the first time. The company used an M2 drone system to deliver medication to a person's home in North Carolina and then a nearby retirement community. The company claims this is the first delivery of its kind in the United States.
Though this is the first time these companies have worked together to deliver medication via drones, they're planning to continue doing this for months to come while they perfect the system. The drone operated autonomously but was monitored remotely.
Kevin Hourican, president of CVS Pharmacy, said in a statement that this is a demonstration of how they can help customers who aren't able to make it to their stores easily.
"This drone delivery, the first of its kind in the industry, demonstrates what's possible for our customers who can't easily make it into our stores," Hourican said. "CVS is exploring many types of delivery options for urban, suburban and rural markets. We see big potential in drone delivery in rural communities where life-saving medications are needed and consumers at times cannot conveniently access one of our stores."
The company says the drone flew to each residence and maintained a distance of 20 feet from the ground once it arrived. From there, the package was lowered to the ground using a cable. They say one of the packages was for a customer who has limited mobility, which makes this kind of service ideal for them.
The Swiss drone company UPS and CVS are working with, Matternet, has previously developed drones for delivering blood and medical supplies to hospitals. It developed what it calls the "Matternet Station," which is a box that can swap the drone's battery and payload so it can operate between hospitals autonomously.
See also: Drones are Programmed to Flock Exactly Like Birds in New Breakthrough Study
UPS and CVS aren't the only players in the drone delivery field. Wallgreens is currently working with an Alphabet subsidiary called Wing to deliver "health and wellness, food and beverage and convenience items" to people's homes in Virginia. The company currently plans to offer customers over 100 products. Wallgreens claims that 78 percent of Americans live within five miles of a Wallgreens, and the company wants to expand drone delivery to markets throughout the country once the system is perfected.
Amazon is, of course, working on drone deliveries as well. The company submitted a request to the Federal Aviation Administration (FAA) in August to allow it to use its MK27 drones to deliver packages "in 30 minutes or less." The company had said in June that drone deliveries would begin "within months," but it looks like there were some delays.
It's clear these companies are ramping up their drone delivery programs, and sooner-than-later we'll likely be starting to see these drones flying around with packages in metropolitan areas and beyond. As with any new technology, it'll be interesting to watch what mistakes they make along the way, as well as what, if any, jobs they take.