'Stress in America' Survey Reveals Sharp Shift in What Scares Young Adults
Gen Z is bearing the brunt of the country's mental illness.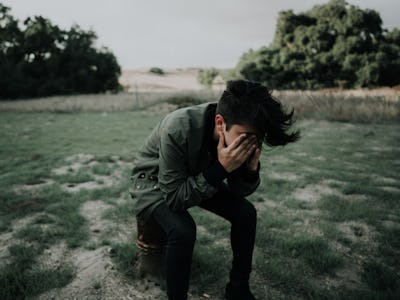 Unsplash / Francisco Gonzalez
The distressing events of 2018 are quantifiably affecting American stress levels. Tuesday marked the release of the most recent Stress in America report, an annual nationwide survey conducted by the American Psychological Association. Compared to last year's report, there's a marked increase in stress caused by the direction in which the United States is going and by the rising threat of gun violence. The good news is that a growing part of the population is able to recognize poor mental health due to current events.
"Current events are clearly stressful for everyone in the country, but young people are really feeling the impact of issues in the news, particularly those issues that may feel beyond their control," Arthur C. Evans, Ph.D., the APA's chief executive officer, said Tuesday. "At the same time, the high percentage of Gen Z reporting fair or poor mental health could be an indicator that they are more aware of and accepting of mental health issues. Their openness to mental health topics represents an opportunity to start discussions about managing their stress, no matter the cause."
More than two-thirds of Americans are stressed about the direction of the country, the report states. Generation Z, in particular are the most likely of all generations to report poor mental health.
Gun Violence
A look at last year's report compared to this year's reveals a stark difference in the nation's stress levels about gun violence. In 2017, just 55 percent of American adults were concerned about overall gun violence. Now, it's much higher.
For the majority of Gen Z youth (those between the ages of 15 and 21), gun violence is a specific source of stress. According to the new report, 75 percent of Gen Z youth report that mass shootings are a significant source of stress, and 72 percent are worried about the possibility of school shootings. It should come as no surprise: According to the nonprofit organization Everytown for Gun Safety, as of October there have been a total of 65 school shootings this year.
Though Gen Z is most affected by school shootings, other age groups bear the weight of gun violence-related stress as well. Sixty-nine percent of illennials (those aged 22 to 37) report being stressed about mass shootings, and 73 percent are stressed about school shootings. Meanwhile, approximately 58 percent of both Gen Xers and Boomers are stressed about both categories of shootings.
The State of the Nation
This year's report also demonstrated a significant uptick in stress in regard's to the country's future. In 2017, 63 percent of American adults said they were stressed about the future of the US. This year, 69 percent of adults said the same.
The silver lining is that, 45 percent of Americans said they felt compelled to support and volunteer for causes they believed in, perhaps as a result of feeling so stressed about the nation's future.
Stress doesn't motivate every generation to act in the same way. While Gen Z survey participants reported the worst mental health, those in the aged 18 to 21 are also the least likely to vote in the 2018 midterm elections. Approximately 54 percent of Gen Z adults plan to vote — far less than the 70 percent of adults overall who plan to cast their ballot.
"One notable finding," says the APA, is that there appears to be an increased tolerance for stress across all generations. Survey participants — 3,458 adults sampled from July 27 to August 28 — were asked to rate on a scale from 1 to 10 what is a healthy amount of stress. In 2017, adults said it was 3.7. This year, that number jumped to 3.9. Whether this is healthy coping or an acceptance of the times remains to be seen — but it is certain that chronic stress harms the body, whether or not you've embraced it.