2017 "Stress Survey" Shows Surprising Unification Over What's "Worst"
There's agreement across all ages.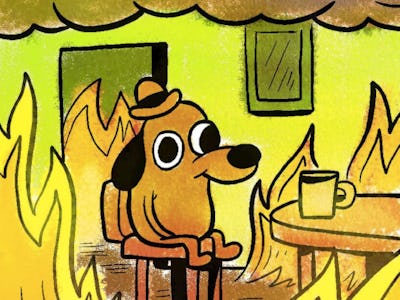 K.C. Green
It's 2017 and everything is fine! Climate change is waning, the United States is more united than ever, and Chris Pratt and Anna Faris are definitely still together.
If only that were true: Things are bogus and the levels of American stress are reflecting that. According to the newest "Stress in America" survey, more than half of Americans consider the current times as the lowest point in U.S. history that they can remember. This wasn't just some millennial reminiscence — Americans from across generations reported the same, including people who lived through World War II and the Vietnam War.
The latest edition of annual report, first conducted in 2007, was released on Wednesday by the American Psychological Association, also specifies what Americans are worried about. The most reported source of stress was the "future of the nation," with 63 of survey respondents citing it as a significant stressor. The following most common sources of stress were money, work, the current political climate, and violence and crime.
While the majority of adults, regardless of political party, reported stress about the future of the United States, the numbers were higher for Democrats. Of the 3,440 adults polled between August 2 and August 31, 73 percent of Democrats cited that the nation's social divisiveness causes them stress, while the same was true for 56 percent of Republicans and 59 percent of Independents.
"We're seeing significant stress transcending party lines," APA's chief executive officer, Arthur C. Evans Jr., Ph.D., said in a statement. "The uncertainty and unpredictability tied to the future of our nation is affecting the health and well-being of many Americans in a way that feels unique to this period in recent history."
Healthcare was the most common issue causing stress when it came to thinking about the state of the nation, followed by the economy, trust in government, and hate crimes. Interestingly, there wasn't a significant difference in stress levels across the country: The average stress level in the East was a 4.7, and the South, Midwest, and West all shared a stress level of 4.8
White men were the least stressed group of those polled. While the APA authors note that it's not a "significant shift," the stress levels of all men dropped in 2017 from a 4.6 to a 4.4. The average stress level for women was 5.1, who've reported higher stress levels than men since the APA began conducting the survey. White men on average had a stress level of 4.2, while both Black and Hispanic men reported an average stress level of 4.8.
The good news is that the survey results also demonstrate that Americans are actively working to better themselves and their country: Approximately 51 percent of Americans say the current political climate inspired them to volunteer and support causes they value. To cope with stress, 53 percent of the respondents exercise and 74 percent say they "have someone they can rely on for emotional support" — an eight percent increase from when the question was first asked in 2014. More Americans are also open to using psychologists as a source of support, with 42 percent of respondents in 2017 saying so compared to 38 percent of respondents in 2016.
If you liked this article, check out this video on the scientific reason why we love our friends so much.