Inverse Daily: The fastest way to learn something new
In a new study, scientists claim to have cracked the code on the optimal level of difficulty to speed up learning.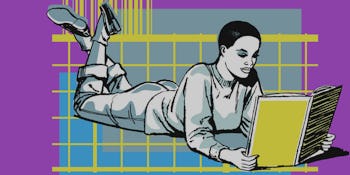 While I wonder if I should buy the Microsoft Surface Pro X — read the Input review by Joshua Topolsky — here is what Inverse has simmering for you this Wednesday morning: one surprising story about the fight against air pollution, one story on overcoming depression, and one story on the fastest rate to learning something new.
I'm Nick Lucchesi, executive editor at Inverse, and this is Inverse Daily. It's a big day with bright stories. Let's go.
Reminder: Our Sonos One Speaker and Apple AirPods sweepstakes is open until Friday. Have you entered yet? All you have to do is enter your email here.*
This article is an adapted version of the Inverse Daily newsletter. Subscribe for free and earn rewards for reading every day.
INVERSE QUOTE OF THE DAY
"We reward perfection maybe too much."
— Robert Wilson, a researcher at the University of Arizona.
Cleaning up air pollution may be simpler than we thought
Engineers have spent decades coming up with tech solutions to air pollution. But the best fix might also be the simplest and cheapest: restoring green spaces.
Nina Pullano reports that new research shows ecological restoration offers huge benefits to reducing sulfur dioxide, particulate matter, and nitrogen dioxide — all of which can cause health problems in humans, including asthma and fertility issues.
Scientists looked across the US to determine where boosting vegetation can do the most good. While most policies in the past have focused on technology, the researchers say we need to recognize these often ignored benefits to health, visibility, and the environment.
You might say it's time to … clear the air.
Read more about this new story →
Related, recent stories:
Adopting this one healthy habit could protect against depression
It's well-established that exercise is healthy. What's not as understood is the extent to which exercise can benefit one's mental health. In a new study published in the journal Depression and Anxiety, a team of scientists determined that people who exercise an additional four hours a week are less likely to be diagnosed with a new episode of depression. This holds true, even if the individual is genetically predisposed to depression.
Inverse Mind & Body Editor Sarah Sloat writes that these four hours, when combined with a baseline of already working out four hours a week, may sound like a lot of time hitting the gym — but it ends up being only 35 extra minutes a day. And here, physical activity doesn't necessarily mean running up a mountain — the results remained the same whether or not the person was doing a high- or low-intensity workout.
Lead author Karmel Choi, a clinical and research fellow at the Harvard T.H. Chan School of Public Health, hopes this study helps people who are at a genetic risk factor for depression feel empowered.
"Depression runs in families and has a strong genetic component, and patients with these risk factors may believe there is little they can do to avoid becoming depressed," Choi says. "Our findings suggest otherwise."
More about working out to avoid being bummed out →
More mental health news:
This brain-scanning bike helmet could change how we learn about development
New research has presented a possible method of studying the brain's most dynamic growth periods during childhood. This flexible, brain-scanning technique could help researchers learn about early brain development and how disorders like autism develop.
More mobile than an MRI, the helmet can study the mind playing video games, reports Sarah Wells for Inverse.
Those limits present challenges to scientists looking to broadly measure the effects of naturalistic learning, like playing video games or learning a new instrument. This is something that OPM-MED is much better at, the researchers say.
Read more about this game-changing research →
More fascinating neuroscience:
Mic Check
Like you, we spend a lot of time on the internet. We also spend a lot of time managing the stress that comes with staying informed.
Mic Check is a place where we can work through what's happening in the world together, and have a little fun in the process.
For a daily morning brief on politics and culture, sign up here →
Scientists pinpoint the fastest way to learn something new
Scientists say they have cracked the code on the optimal level of difficulty to speed up learning. In a new study, researchers tested how the difficulty of training affects the rate of learning in a broad class of learning algorithms, artificial neural networks, and computer models thought to simulate learning in humans and animals.
The researchers discovered a learning sweet spot — the point at which training is neither too easy nor too hard. In the sweet spot, learners make errors about 15 percent of the time, but their learning progresses fastest and additional effort has the biggest payoff.
Alexandra Pattillo observes for Inverse that the new findings poke holes in the idea that perfection should be the ultimate goal of learning. Although the study was in artificial neural networks, there are real-world implications — namely, that we need to rethink what the education system values.
Read more about this finely pointed study →
The more you know … about how we learn:
Here's where SpaceX will build those inter-Earth spaceports
SpaceX wants to speed up city-to-city trips around the Earth, but you might have to travel a long way to get on the ship.
The company is building the Starship, a stainless steel rocket capable of transporting 100 people comfortably for trips to the moon, Mars, and beyond. But one of the Starship's biggest benefits could be its ability to send people around the Earth at speeds of up to Mach 25, moving 1,000 people at once from London to New York in the space of just 30 minutes versus the eight hours currently required for a flight.
Unfortunately, for an airport that can be found around 10 miles from a city center, the Starship spaceport would need to be located around 20 miles off the coast to avoid major noise disruption. That could result in big journeys just to get on the ship itself.
The answer? It could lie with another far-flung Elon Musk idea. The entrepreneur has suggested the company could build a hyperloop running from the city center to the spaceport, cutting trips between the two down to just 10 minutes. It's a bold plan, but then again so is Starship's other goal to establish a city on Mars.
More quick stories about moving fast:
Meanwhile …
Inverse Loot
Subscribe to Inverse Loot and learn about these deals first.
*Sponsored
That's all for today!
Thank you for reading, and if you have a suggestion for how to make this newsletter better, drop me a line at nick@inverse.com. And follow me on Twitter, where I retweet the best of Inverse every day.
*The Upgrade Your Audio Sweepstakes is open to residents of the 50 United States and D.C., age 18 or older. Void outside the United States, in Puerto Rico, and wherever else prohibited by law. Sweepstakes begins at 12:01 AM ET on November 4, 2019 and ends at 11:59 PM ET on November 8, 2019. Click here for the Official Rules. Sponsor: BDG Media, Inc., 315 Park Avenue South, 12th Floor, New York, New York 10010