Apple's augmented reality headset may partner with a video gaming giant
Apple's headset is taking shape.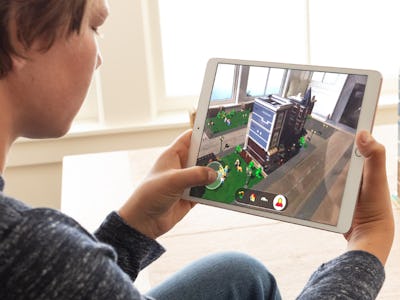 Apple 
Apple may work with Valve to bring its augmented reality headset to market, a new report claims. The video game firm is famed for its key role in virtual reality gaming and for acclaimed series Half-Life 2, but it's had a mixed relationship with Apple over the years.
A DigiTimes report Monday claimed the pair were working together on Apple's planned augmented reality headset, which could launch in the second half of 2020. Where the website reported in July that Apple had stopped the development of its headset, what instead happened was the company was shifting its development to a more collaborative approach.
It could prove a big win for Apple. Valve has been a key proponent of virtual reality, previously working with HTC on the successful Vive headset unveiled in 2015, which now claims 13 percent of the market. The company's Steam online store also offers support for virtual reality games, forming a key platform for developers' creations. Valve launched its own Index headset in April 2019. While it has yet to release an expected follow-up to 2007's Half-Life 2: Episode 2, evidence suggests the company could revive the franchise for its virtual reality headset.
Valve's assistance could help Apple bring its augmented reality headset to life, but the pair have a shaky history. Co-founder Gabe Newell claimed in 2007 that Apple employees would meet with Valve to discuss ways to bring more video games to the Mac, only to receive little support. The company released Steam for the Mac three years later.
Apple has expressed strong interest in augmented reality over virtual reality, the former enabling the viewer to see their surroundings with virtual objects superimposed, instead of the latter that encloses viewers in a headset. CEO Tim Cook said in 2017 that the technology made him want to "yell out and scream" with excitement, as it could offer the benefits of virtual reality while enabling users to remain sociable.
The company's rumored augmented reality headset could bring that vision to life. An October report from Apple analyst Ming-Chi Kuo claimed the headset would be marketed as an iPhone accessory, where the phone handles computation and other tasks. That means the headset could remain slim and light.
The latest version of iOS also drops hints about a future headset. A framework called "Starboard," discovered by developer Steve Troughton-Smith, appears to offer support for the headset. A new game controller profile also describes a device with a trigger button, clicky trackpad and home button. The software's approach to the headset suggests it would work similar to CarPlay, another feature where the iPhone runs apps with modified user interfaces suitable for an in-car system.
The company has been gradually building out its support for augmented reality on the iPhone. The "ARKit" set of developer tools is designed to let developers create their own augmented reality apps without worrying about the small details. First introduced with iOS 11, ARKit has been gradually expanded over the subsequent two years.
As the headset's launch approaches, Valve's involvement could help finally bring all these pieces to life with engaging new experiences.