2 Big Changes That Would Make the iPad Pro Truly Worth the Money
The new tablet holds great promise.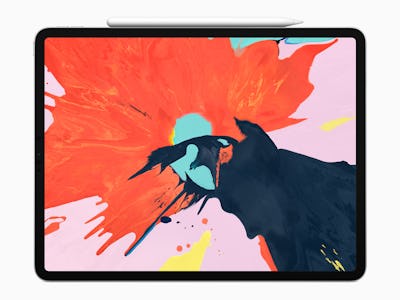 Apple
The new iPad Pro is impressive, but if Apple changed its philosophy in two ways, it could really shine.
The company announced an upgrade to its tablet line at the Brooklyn Academy of Music in New York City in Tuesday to great fanfare. Due to start deliveries on November 7, the iPad Pro now uses Face ID to offer a large display that ditches the home button. The tablet charges and connects to devices through USB-C, while a new Apple Pencil offers an array of touch gestures and charges through a magnetic clip. The 11-inch model starts at $799 and the 12.9-inch model starts at $999, both with 64GB storage with higher-priced versions offering up to 1TB storage.
It's a big upgrade, but Apple's approaches to treat the iPad differently to the Mac and to half-heartedly support games could unnecessarily hold back the tablet. Here's how Apple could unlock its true potential:
Better Game Controllers
Apple has always had something of a mixed relationship with video games, with Valve co-founder Gabe Newell claiming in 2007 that representatives would meet with the firm to ask for advice but never "follow through on any of the things they say they're going to do." Valve brought Steam to the Mac three years later, the same year Apple introduced Game Center for iOS, but the company has never exactly posed a challenge to PlayStation or Xbox.
On Tuesday, Apple offered signs to suggest that could change, by comparing its new iPad Pro in performance to the Xbox One S. The A12X Bionic chip was shown running a new version of NBA 2K for the iPad. 2K vice president Greg Thomas claimed the tablet offers "an experience that rivals consoles for the very first time."
The missing link is game controllers. The touchscreen is convenient, but lacks the same tactile response as traditional buttons. Apple introduced a game controller standard with iOS 7 in 2013, but failed to produce its own controller. It worked with SteelSeries on the Nimbus in 2015, encouraging Apple TV buyers to pick up the device for their new streaming box, but didn't offer any bundles. As Minecraft disappeared from the Apple TV App Store this month, developers told Ars Technica that among other things, Apple needs to try harder with controllers.
Without a proper push with game controllers, Apple's relationship with video games will remain a mixed bag. Perhaps Microsoft's Nintendo Switch-like controllers could give the firm some ideas.
Mouse Support
Apple has remained steadfast in its insistence that the Mac and iPad represent two different modes of interaction. Former CEO Steve Jobs said in 2010, after the iPad launched, that "we've done tons of user testing on [putting a touchscreen in the Mac], and it turns out it doesn't work."
That stance may be starting to strain. The iPad Pro uses USB-C for external display output at up to 5K resolutions. To interact with the content, though, you're going to need to touch the screen:
Unlike on a Mac, adding an external display onto the iPad does not increase the size of the interactive space on offer. The touchscreen remains the same size, and users have to work through it to change the content on the external screen.
Microsoft, meanwhile, has fully embraced mixing touchscreen and mouse user interface paradigms. Inverse tried out the Surface Book 2 and found it an incredible way to mix both tablet and laptop in a way that makes perfect sense. Windows 10 supports both modes, plus includes the option of a special tablet-designed mode for easier touchscreen interactions.
There's always iOS 13 next year.