Microsoft's Nintendo Switch-Like Controller Could Transform Xbox Scarlett
Microsoft Research has been working on some new ideas.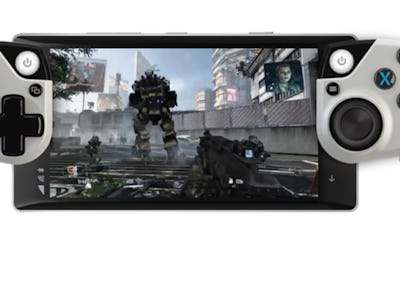 Microsoft
Microsoft has been exploring new controller designs, and it could signal a path forward for future Xbox consoles. A Microsoft Research paper published this month entitled "A Versatile Controller Concept for Mobile Gaming" describes a "speculative research exploration motivated by the desire to enable traditional gaming experiences on mobile devices by incorporating tactile input controls."
The paper, spotted by WindowsCentral, describes a controller that's broken up into five components: two square gadgets that contain either side of the buttons found on a regular controller, slide-in grips for either side, and a fifth component that binds the two halves together and charges them using a cable connection. The set can act as a regular controller when fully assembled, or the button sets can clip onto a phone or tablet either side to provide buttons. The paper also shows how the two halves can work separately in a manner that could make them appropriate "for virtual or augmented reality," also drawing to mind the portable-yet-dockable Nintendo Switch.
The research is described as "speculative," but it could prove a useful controller for the next Xbox. Microsoft announced work on the successors to the Xbox One at the E3 conference this summer. A report published soon after suggested the company would focus on efforts to stream games over the internet, like a Netflix for games, by offering a $100 to $125 streaming-only box as an alternative to the several-hundred-dollar game consoles that run complete games locally.
Microsoft announced its xCloud game streaming service earlier this month, with plans to start public trials in 2019. The service, similar to Sony's $19.99 per month PlayStation Now, runs games insider server farms and sends the images out to the player. In the promotional videos, players use a clip to hold their smartphone above an Xbox One controller, connected to the phone via Bluetooth. An alternative setup uses on-screen touch controls.
Microsoft's research paper could offer a far more elegant solution:
The paper explained the rationale for the removable grips:
With tablet-sized devices, users typically fitted the controls towards the top of the display and used palms to grasp the device. However, with phones this was not practical; users tended to hold the controllers only. This felt 'cramped' to many so we developed slide-in grips which can extend the controllers' contact area with the hand, more closely resembling a traditional controller.
The connector would bring the two halves together:
This would enable use with a traditional console when at home, in both joined mode and single-handed mode:
Microsoft's prototype model even included triggers and bumpers on the rear:
The research, which was conducted between 2012 and 2014, suggested the best approach would be if the two sides acted as independent Bluetooth low-energy devices.
Whether the controllers ever end up in a shipping device remains to be seen, but if previous reports are accurate that Microsoft is keen to focus on game streaming for its future consoles, it could offer a means of making these on-the-go experiences better for its users.