How Microsoft 'Xbox Scarlett' Game Streaming Box Will Beat PlayStation Now
The company is finally going to fix input lag.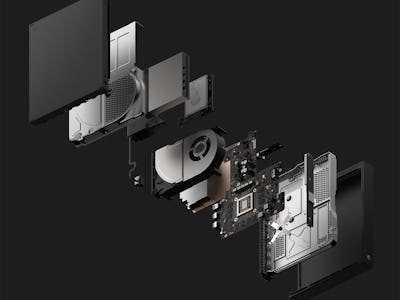 Microsoft
Microsoft is planning at least two new Xbox consoles under the codename "Scarlett," one of which will stream games over the internet while cutting back on input lag through an innovative new design. That's according to a Monday report, which claims "Scarlett Cloud" will launch alongside a more traditional video game machine in 2020.
The Thurrott report paints a clearer picture of Microsoft's future plans, after the company revealed at last month's E3 2018 conference that it's developing a game streaming service and a group of consoles. The plans differ from PlayStation Now, Sony's streaming service that launched in 2014 that offers PS2, PS3 and PS4 titles to PS4 and Windows players by running the full game on a remote server rack. While Sony's offering can suffer from latency between button presses and on-screen changes, "Scarlett Cloud" would avoid this by running a few tasks on the home-based hardware itself, like collision detection, image processing, and controller input.
The cloud-based box will, according to Brad Sams, cost "anywhere from under $100 to up to about $125" or "potentially even lower." The machine would be positioned to price-conscious consumers with high internet connectivity, running all the same next-gen games as the more expensive box but "sliced" up so relevant components can run on the low-powered hardware. The technology may also reduce multiplayer latency if the game itself is running on the same servers as the multiplayer. Sams claims that Sony may struggle to match this offering, as Microsoft has up to 50 global data centers and develops its own cloud services like Azure.
The big question is the price of the streaming service, which will almost certainly cost money as Microsoft will have to maintain servers. Sony charges $99.99 per year or $19.99 per month for PlayStation Now. Microsoft has no comparable offering, but its Game Pass service allows users to download over 200 games for $9.99 per month. Neither of these services offers online multiplayer, available for $59.99 per year extra under Sony's PlayStation Plus and Microsoft's Xbox Live. While the box may cost less, hooking consumers into a new annual subscription fee could prove a lucrative strategy for Microsoft.
While the two boxes are set to launch in 2020, there could be more surprises on the way. Xbox head Phil Spencer said at the E3 conference that the company's engineers plan to offer "console quality gaming on any device," ensuring that users have access "everywhere you want to play" be it "on your Xbox, your PC or your phone."
The reduced-lag Scarlett streamer could offer impressive quality, but Microsoft wants players running its services in as many places as possible.