Report Reveals Leaked Xbox 'Scarlett' and New HoloLens Launch Date
The company is also set to launch three new Surface products.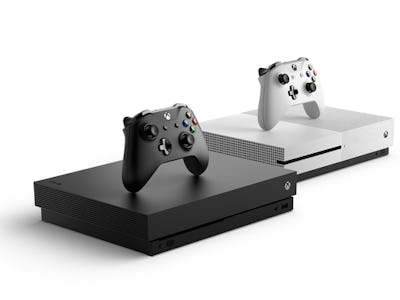 Microsoft's next Xbox may launch soon after three Surface-branded devices and an upgraded HoloLens, a Wednesday report reveals. While the company has announced that the Xbox One X team is working hard on future video game consoles, rumors suggest the project codenamed "Scarlett" could arrive as soon as 2020.
The new leaks are from Brad Sams, editor at Thurrott.com, and reveal the company plans to launch a new Xbox under the codename "Scarlett" as soon as 2020. It's unclear whether the console is an upgraded Xbox One, akin to the X that launched last year with 4K capabilities, or a device that plays new games. The documents suggest that the 2020 console is part of a family of devices all under the "Scarlett" codename.
The report follows Microsoft's Sunday presentation at the E3 2018 conference in Los Angeles, California, where Xbox division head Phil Spencer said that "the same team that delivered unprecedented performance with Xbox One X is deep into architecting the next Xbox consoles, where we will once again deliver on our commitment to set the benchmark for console gaming."
Although Microsoft as officially announced the existence of the console, further details are thin, barring suggestions the machine would offer some form of backward compatibility. In a Monday interview with Eurogamer, Spencer stated that "without announcing anything, I'm very proud of our track record of compatibility." The Xbox One runs over 500 games from both the Xbox 360 and the original Xbox.
Further reports suggest Microsoft has other launches scheduled before the new Xbox. Sams reports the company will launch a Surface Pro 6 with the codename "Carmel" on an unspecified launch date, as well as a low-cost Surface tablet codenamed "Libra" that Bloomberg suggested would launch in late 2018 for $400.
Perhaps most interesting is the device codenamed "Andromeda," the third Surface-branded offering. Scheduled for release this year, this product is aimed at kickstarting a new area of dual screen computers, similar to Intel's Tiger Rapids demonstration earlier this year:
Reports also suggest Microsoft plans to launch a next-generation HoloLens as soon as the first quarter of next year, improving on the design that debuted in 2015. The new model is set to be lighter, easier to wear, cheaper, and offer better augmented reality displays. Apple is also rumored to be working on a similar project under the codename "T288," improving on the "ARKit" tools used by developers in iOS 11 to create games like Pokémon GO.
When asked about the reports, a Microsoft spokesperson told Inverse that the company does not comment on rumors or speculation.