6 Predictions for Virtual Reality in 2017
It's going to be a rocky year.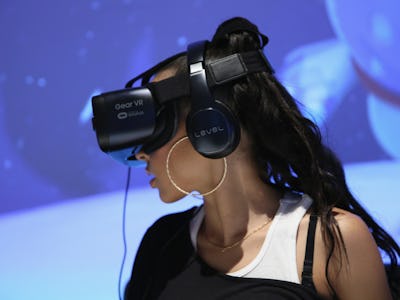 Getty Images / Monica Schipper
Augmented and virtual reality are going to have a rocky year. This shouldn't come as a surprise, as the hype for this technology has died down a bit, laying bare the challenges facing A.R. and VR in 2017.
Skeptics wonder if A.R./VR is in decline because it is becoming a bore. According to a Digital Future Lab panel of A.R./VR industry experts this week in Brooklyn, those concerns are spot-on. Don't expect to see anything revelatory in A.R./VR this year.
This is far from the end, though. Developers and everybody else with a stake in its success have to figure out the missing pieces that can make A.R./VR successful.
"It's just a new era of technology," Sophia Dominguez, CEO and co-founder of VR search engine SVRF, told Inverse after the panel. "We're in the early days, like in the age of brick cell phones. Maybe we're entering into the Palm Pilot phase."
With that in mind, here are six predictions made by A.R./VR experts at the start of 2017 about what this year holds for the emerging tech, in its Palm Pilot period.
6. 2017 will be about figuring out better user interfaces.
Right now when we think of using A.R./VR, we have bulky headsets and goggles. If we want to use A.R./VR a lot, we're not going to want to wear unattractive, heavy hardware.
"We have to overcome a hardware problem in the sense that A.R. and VR is something you wear on your head," said Sophie Kleber, executive director of product and innovation at the ad company Huge. "If you try on your HoloLens and your honey comes home, you look like an idiot."
5. The next iPhone will incorporate A.R.
"iPhone 8 is going to be the first toe that's dipped in there," said Shawn Cheng, principal at venture capital firm Vayner/RSE.
There are rumors that the next iPhone will be A.R.-compatible, especially since Apple has been vocal about A.R. since the launch of Pokémon Go. Right now, iPhones can recognize your fingerprint to unlock the phone, but Cheng predicts that iPhones will use facial recognition, which is crucial to Snap's current Snapchat filters and A.R. technology. And it's always good if the boss is behind the idea. Tim Cook thinks A.R. will be huge.
4. A lot of A.R./VR startups will flame out this year.
Since the hype is dying down, startups may lose funding and momentum. However, not all hope is lost for A.R./VR startups — they just have to come up with more specific ways to use the technology.
"While I'm talking to new entrepreneurs lately, I'm hearing more fine-grained ideas to take advantage of A.R./VR," said Justin Hendrix, executive director at NYC Media Lab. "…They're starting to come up with business ideas that are really going to be the exciting companies you'll hear about."
3. Some dope A.R./VR games will emerge.
Many students have already built some creative games using A.R./VR technology. For example, Hendrix met a student who built a game where you're put in the shoes of an eggplant.
"You went in there and you were an eggplant," Hendrix explains. "You have an eggplant arm and eggplant body. You just messed with weird stuff in this environment. People just didn't want to get out of it. It was really fun."
He expects that more students and amateurs will continue to build similar immersive games.
2. A.R./VR will be used as a prototyping tool.
If companies want to design a 3D experience or a retail experience, they can use A.R./VR technology to test it out. Companies may also start working on technologies for rendering 3D environments, like satellite imagery, building construction models, and more.
"That's something that's right there and right in the moment," Kleber said. "You get ideas about line of sight and lighting."
1. Sure, 2017 won't be great for VR, but the second half of 2018 will.
At least that's what Hendrix predicts.
"We anticipate hardware and software coming together, and some kind of killer application will emerge," Hendrix told Inverse after the panel. "A lot of people keep expecting a new application that has more staying power than Pokémon Go, and that can happen at any moment."