Apple Leaks Reveal VR Headset That Makes HTC Vive Look Ancient
Apple is joining VR in a big way.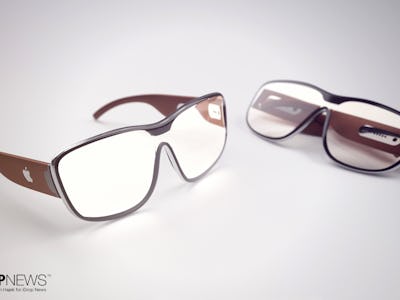 iDrop News
Apple is getting into the virtual reality space, and it's going to blow away the competition. A report last week claims the company's "T288" project, set to launch in 2020, would use an 8K display for each eye and wirelessly connect to a computing box more powerful than any Apple chip launched before. It's a bold outline and one that could bring CEO Tim Cook's vision of augmented reality to life.
The CNet report details a headset with a far higher resolution than the HTC Vive's 1,080 by 1,200 pixels per eye. The headset would use 60GHz WiGig technology to communicate with a platform that uses a five-nanometer chip, using tighter transistors than the ones found in the 10-nanometer iPhone X processor. The "T288" chips may form the basis of a switch from the Mac's Intel chips onto Apple-designed processors. The setup would require no other hardware, unlike the Vive that needs base stations to track the headset's location. It's a big expansion on the technologies Cook outlined at last year's Worldwide Developers' Conference, where he announced "ARKit" developer tools included with iOS 11 that makes it easier for developers to create augmented reality apps like Snapchat and Pokémon Go.
The news follows on from a Bloomberg report in November 2017 that identified a "T288" project as a future augmented reality project. That leak suggested the headset would use an "rOS" operating system to offer tailor-made apps. Cook has spoken before about his preference for augmented reality over virtual reality as less socially isolating, telling Buzzfeed News that "things like these are better when they're incorporated without becoming a barrier to our talking."
An Apple patent application was published last week for technologies that could also make their way into the headset. The United States Patent and Trademark Office released details of a system that would beam near-infrared light into a mirror and bounce it into the user's eyes to measure their eye movements. Such a system would be useful in virtual reality, as technologies like foveated rendering could dedicate graphics chip resources to the areas of a screen that the user is actually looking at to boost quality.
Apple is set to take the stage June 4 at its annual Worldwide Developers' Conference. While "T288" is unlikely to get any stage time, any developments for augmented reality in iOS 12 could signal the company's plans for the technology in the future.
The leaks have got designers excited — iDrop News produced a series of concept renders in February that show how Apple could mix style and tech in its headset.