These Stunning Apple Glass Concept Renders Make HoloLens Look Ancient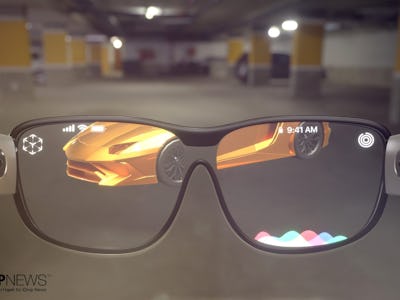 iDrop News
Apple's augmented reality glasses are still a rumor, but an incredible new set of concept renders show why the company might want to move into eyewear. Reports claim that the company's developer tools, which make AR app creation for iPhone simple, are a stepping stone to a new class of device that would overlay information onto the real world around them. If they look anything like this, they could put Microsoft's HoloLens to shame.
The renders, produced by iDrop News and published on Thursday, aim for a minimalist design that look as much like regular glasses as possible. The team worked with designer Martin Hajek to bring the rumors to life with Apple's design flair on show.
"Our inspiration simply comes from Apple's ability to blend fashion with technology," Elijah Waeterling, iDrop News editor, tells Inverse. "Apple's products are never gaudy or obtrusive. Apple Glass is an AR headset that blends traditional style with all of the advanced technology we'd expect from Apple today and into the future."
Interchangeable soft leather covers adorn the arms, in a similar attention to detail as the Apple Watch. The arms house Wi-fi and Bluetooth connectivity, as well as the internal processor. A display technology isn't specified, but the creators suggest Apple's close relationship with Intel could enable use of the Vaunt low-energy lasers that beam directly into the eye.
It's a technology that has Apple excited. Ever since the company announced the ARKit developer tools bundled with iOS 11, Apple's app store has gradually filled out with iPhone apps that can preview furniture in a home and play games in the living room. A standalone headset would be an ideal step forward.
"I think it is profound," CEO Tim Cook said in a June 2017 interview about augmented reality. "I am so excited about it, I just want to yell out and scream."
The renders also outline how the device's internal software may look. A November 2017 report claimed that "rOS" (in the same naming style as iOS and macOS) would provide special agumented reality apps as part of an umbrella project codenamed "T288." It's unclear what features such an operating system would offer, but the renders take cues from other products to make a suggestion. There's a Siri waveform for voice commands, a series of Apple Watch activity rings for measuring calories burned, and cell signal indicators to show the quality of internet connection.
The renders also suggest the lenses could charge up using a wireless pad. This isn't as farfetched as it may seem: the iPhone 8, 8 Plus and X all offer Qi charging support, and an extension to the standard used in the upcoming AirPower mat will enable smaller devices like the Apple Watch Series 3 and AirPods to charge up.
As for when such a device could hit the market? Apple supplier Quanta has suggested an AR device could hit the market next year with a price tag below the $1,000 mark. If true, it would undercut the HoloLens by around $2,000 and make Apple a serious contender for domination of the area.