Apple's 'rOS' Augmented Reality Headset is Coming Soon, According to Report
Tim Cook is working on something big.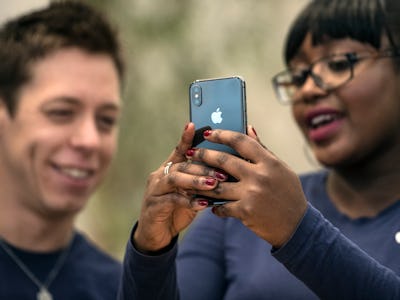 Getty Images / Carl Court
Apple is working on an augmented reality headset that packs text messaging, virtual meeting rooms and immersive video playback, a new report Wednesday reveals.
The kit is in the early prototype stage, but it's expected to run a software called "rOS" — short for "reality operating system" — in the same way that iPhones run iOS.
Bloomberg reports the headset is part of a major augmented reality push, with an umbrella codename "T288." Apple is hoping to have the technology in the headset completed in 2019, with a product launch the following year.
Augmented reality is a passion for Apple CEO Tim Cook, who believes that it's better than virtual reality as it provides a view of the real world during applications. This means that users aren't shut off from the people around them.
"I think that things like these are better when they're incorporated without becoming a barrier to our talking," Cook told BuzzFeed last year. "You want the technology to amplify it, not to be a barrier."
The company's goal is to build a headset with a built-in display capable of playing back 3D video, all while maintaining a respectable battery life. Beyond that, details are vague. Apple is experimenting with a variety of control methods, including Siri voice activation, head gestures, and a touch-sensitive panel. The company is also considering an "rOS App Store" that would stock augmented reality apps.
Apple took its first major steps into augmented reality this summer, with the announcement that iOS 11 would include ARKit developer tools for easily making iPhone augmented reality apps. The software update launched in September, and it's already led to a number of app releases, including an Ikea catalog that shows you how furniture will look in your home before you buy.
"I am so excited about it, I just want to yell out and scream," Cook told Bloomberg in June. "The first step in making it a mainstream kind of experience is to put it in the operating system."
While ARKit is still in its early days, it could form the basis for new products in the coming years. Apple will have to act fast, though — Google released ARCore earlier this year, which sets out to offer Android developers similar tools.
If you liked this article, check out this video on how smartphones are rewiring our brains.