Tim Cook Likes AR, Says "There's No Substitute for Human Contact"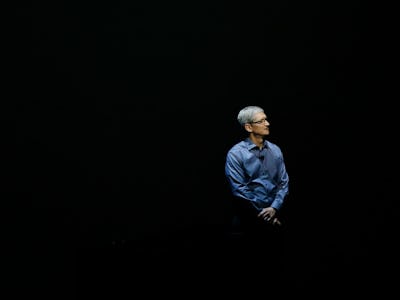 Getty Images / Stephen Lam
It's been a big month for virtual reality, what with massive, big reveals by tech pioneers like Oculus and Playstation, but Apple CEO Tim Cook prefers VR's cousin augmented reality, for one simple reason:
"There's no substitute for human contact."
The 55-year-old spoke to BuzzFeed News Japan while in Tokyo on Thursday. He explained why Apple is working on AR, which adds to reality, rather than VR, which creates entirely new virtual ones.
"VR, I think, has some interesting applications, but I don't think it's a broad-based technology like AR," Cook explained. "Augmented reality will take some time to get right, but I do think that it's profound."
"I think that things like these are better when they're incorporated without becoming a barrier to our talking," he continued, suggesting his conversation with BuzzFeed's reporter could be enhanced if they were both using AR. "You want the technology to amplify it, not to be a barrier."
There's no word on when Apple is going to produce its AR headset, which Cook winkingly confirmed last month, but his comments to BuzzFeed come on the same day that Apple competitor Sony launched Playstation VR. Facebook-owned Oculus premiered a bunch of new VR tech last week, and Microsoft is still improving its HoloLens AR headset. It seems like it's high time for Apple to make a move.
Cook has a point about the inherent and isolating nature of VR — Oculus is trying to solve that very problem with some of its new creations. Still though, Cook's comments, and the social motivation behind them, are an all-too-rare look into Apple's plans.