Everything You Need to Know About PlayStation VR
Experience Sony's new consumer virtual reality headset for yourself.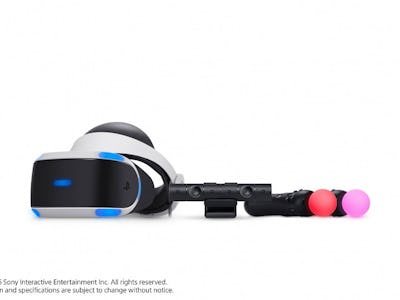 PlayStation VR is finally upon us. Unlike major VR competitors, the advantage in the market right now is seemingly Sony's. Not only are there 42 million PS4s out in the wild already, but the company is offering a relatively comparable experience for a fraction of the price of its PC equivalents.
That's great news for anyone thats been interested in trying VR but has been on the fence. But, how does Sony's headset work? And more importantly, how good is it?
First, the basics:
PSVR pumps out a 1920x1080 resolution through a single 5.7 inch OLED screen that projects 960x1080 frames to each eye. As you might expect from a cheaper consumer VR unit, it's not as beefy as either Oculus or Vive, which each contain two screens at 1080x1200 resolution each that result in an overall cleaner picture. That said, PSVR is still no slouch in the visuals department, and in the thick of most games you won't really notice much of a difference.
On the hardware side, out of the box, the headset comes with all the hookups you need, including a processing unit that looks like a mini-PS4, which helps with 3D audio and video output by plugging into the PS4 itself.
Note the $399 base unit does not actually come with the PlayStation Camera, which is required, or Move controllers, which are recommended for maximum immersion (though many PSVR games still have standard controller support as well).
If, like most people, you don't have the PS4 camera or Move controllers, don't worry — Sony is also selling a $499 box with everything you need for basic play. It includes the camera, two Move controllers and Sony London's VR Worlds compilation of short games, including The London Heist, one of the platform's big promotions from when the headset was still Project Morpheus. Both the $399 and $499 sets also come with a demo disc. Remember those?
There are also lot of cables for setup, though the longest — the one that connects the headset to everything else — shouldn't be an issue in terms of length, particularly given that most available games don't require moving around much.
From a more practical standpoint, the PSVR headset is by far the most comfortable of the major headsets thanks to some very clever industrial design that balances the weight of the unit evenly across the front and back of your head (it obviously looks quite future chic, too, if that's your thing — and the unit's glowing blue lights are actually how the unit tracks your position).
It's great for people with glasses, too, thanks to a great slide function that lets you manually adjust the distance between the screen and your face for the best possible focus. To be frank, the design of the headset alone more than makes up for whatever tech shortcomings it might have over PC virtual reality.
Then, of course, there are the games, and between platform exclusives and games with VR modes (like Rise of the Tomb Raider) PSVR has quite an extensive list of launch titles — more than 30. Not all of these are full experiences — Rocksteady's Batman Arkham VR is about 45 minutes or so, to give one example — but it's also only $20.
Still, it's one of the notable titles you'll probably want to check out, alongside Rez Infinite, Thumper, surreal horror adventure Here They Lie, mech combat actioner RIGS, and, if you like puzzles or stealth games, SuperHyperCube and Volume Coda. Also, the pre-Resident Evil 7 teaser Kitchen, previously exclusive to trade shows and cons, is a fun little experience that's included on the demo disc.
For now, console VR is very much in its infancy — PSVR's launch lineup is varied, and there's there are some promising games on the horizon. But, like any launch, it's all about the potential for the future. Before you make any decisions, just a reminder Sony's mid-gen PS4 Pro launches next month, which promises more horsepower for, in theory, more extensive VR experiences. Either way, PSVR is fascinating new technology, even if the best is likely yet to come.
The full list of launch games is as follows:
PSVR required:
Keep Talking and Nobody Explodes
RIGS Mechanized Combat League
Until Dawn: Rush of Blood
PSVR Compatible:
Hatsune Miku: Project DIVA X
Rise of the Tomb Raider (Blood Ties chapter)