Apple's AR glasses could solve one of VR's biggest problems
The headset is expected to launch surprisingly soon.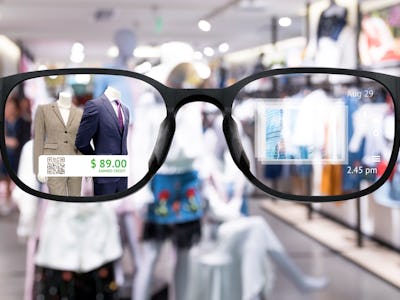 Shutterstock
Apple's augmented reality glasses are set to debut as early as the second quarter of 2020, according to an analyst note Wednesday.
Ming-Chi Kuo, a TF International Securities analyst with a strong track record on Apple's next moves, claimed in a note seen by MacRumors that the glasses would be advertised as an accessory for the iPhone, acting mostly as a display while the smartphone handles the computing and other complex tasks. This is expected to ensure that the glasses will remain slim and light, avoiding the need to pack the set with high-end computer chips.
The description chimes with CEO Tim Cook's ultimate vision of an augmented reality world where people treat their headset as something that adds information to their view. This is in contrast to virtual reality, where the user's vision is enclosed in a headset and ears normally covered by headphones. Apple's product seems it would trade immersiveness for real-world use.
The future of augmented reality may be about to come to life.
Augmented reality: Apple's vision of the future
It's no secret that Cook loves augmented reality. In June 2017, he declared that augmented reality is "profound," adding that "I am so excited about it, I just want to yell out and scream."
Part of his reasoning for this is because, unlike virtual reality, it doesn't stop people from holding a conversation and interacting with each other. In October 2016, he said that he didn't think virtual reality was "a broad-based technology like AR," adding that "I think that things like these are better when they're incorporated without becoming a barrier to our talking…you want the technology to amplify it, not to be a barrier."
Apple has gradually made steps into this area, using its wildly popular iPhone as a means to dip its toe into the space. iOS 11 debuted a series of tools for developers in 2017 called ARKit, enabling them to quickly develop apps that could enable people to preview furniture in their home or capture Pokémon. The toolkit has gradually improved in successive iOS iterations, most recently adding features like real-time body tracking with the launch of iOS 13 last month.
But the company has yet to launch any sort of headset that could break it away from the confines of the iPhone. The lack of a clear, breakout success story on the augmented reality side could offer an opening — or it could suggest Apple's glasses would remain a niche.
Google experimented with the Glass, a curious device that launch in 2013 and almost immediately came under scrutiny for violating privacy, leading to the term "glassholes." Microsoft has the HoloLens, a bulky industry-focused kit that launched in 2015 enabling employees to follow instructions or share information. The much-hyped Magic Leap debuted late last year to relatively mixed previews, with questions lingering over why a user might want one.
Contrast that with virtual reality, which has gradually cemented itself as a new medium for video games. The HTC Vive, PlayStation VR and Oculus Rift have all demonstrated how placing a screen in front of someone's eyes and giving them two motion controllers can make them feel more immersed in a world than ever before.
Virtual reality has found its killer app, so what's the consumer use-case for augmented reality? On the smartphone side, augmented reality has shown a few. Google Maps has demonstrated walking directions, Snapchat has produced immersive face filters, and Lego has created a virtual playground with augmented reality blocks. Augmented reality means that in all these cases, people can continue a conversation and even interact with friends instead of shuttering themselves off into a virtual world.
Whether this is enough to make Apple's glasses a success remains to be seen.