Apple AR Glasses: Release Date, Price, Features for the Mysterious Wearable
A pair of glasses could join the Apple Watch and AirPods.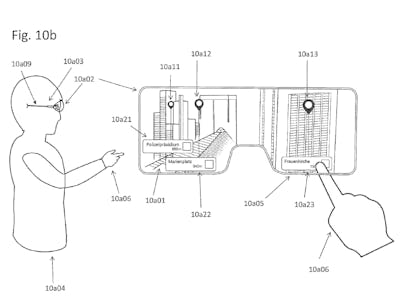 USPTO
A new Apple wearable might soon join the ranks of the AirPods and Apple Watch: a pair of augmented reality glasses. The long-rumored specs are expected to work a lot like its counterparts work now, as an accessory that elevates the iPhone using a mix of biometric sensors and its own unique display capabilities.
The Cupertino-based company has filed a number of patents and even held a secret meeting with a company that supplies AR components, according to some reports. Its vision for a pair glasses has taken shape and could be here very soon.
Most recently, an April 19 continuation patent provided furthered evidence that the glasses would use the iPhone as an engine to generate interactive holograms. It went on to lay out plans for a gesture control system that would be enabled by a built-in accelerometer and that can detect head motions. In theory, this would let users move through a hologram of a photo album by shaking their head, or indicate yes or no by nodding.
Those hints came weeks after famed Apple analyst Ming-Chi Kuo predicted the headset would use the iPhone's computational power to render images, crunch data, connect to the internet, and tap into locational services.
Kuo didn't specify exactly how the pairing will work, but it could function similarly to how the Apple Watch and iPhone communicate with one another. Only this time, the glasses could pass bodily data and visual information to the iPhone, which it would then process to generate holograms and let users interact with them using a wink or a nod.
Apple is already gearing up to continue adding new AR features to future iPhones, which could be interpreted as some early preparation for its heretofore secretive AR glasses project. These features and products could soon be announced, according to some industry forecasts, which could have Apple users interacting with holograms more than ever before.
Apple AR Glasses: Expected Launch Date
Apple has yet to say a word about its mysterious AR glasses, but reports that they're in development have consistently trickled out since 2017.
Kuo's most recent report stated the company will begin mass producing the spectacles before the end of 2019, and that they could be ready for launch by mid-2020. The analyst has also stated previously that the glasses would launch in 2020, though this most recent report narrowed the forecasted launch date.
The timeline laid out by Kuo also lines up with a report published by the notable Apple reporter Mark Gurman in November 2017, who stated that the glasses could ship as early as 2020. Most of the credible predictions are beginning to coalesce around next year, which means we could see Apple's AR headset at next year's March product launch, WWDC, or possibly the 2020 iPhone event.
Apple AR Glasses: Expected Price
It's hard to estimate a price for Apple's AR headset, as there isn't yet a precedent as there with previous iPhone launches. But Apple supplier Quanta Computer has suggested that the headset could be ready by 2019 and hit shelves at $1,000, according to a Nikkei Asian Review report. That said, Nikkei's Apple reports have been off the mark before, so take this prediction in particular with a grain of salt.
Other competitor products offer clues. Microsoft's HoloLens 2 and the Magic Leap One are both priced over $2,000. At $150, Snap's Spectacles may offer another point of comparison, but Apple's devices will likely ship with far more functionality.
By waiting longer to get into the game, Apple may be able to be undercut the rest of the market for premium AR headsets. While they launched in 2013, the Google Glass — at the time priced at $1,500 — may give us something of a ballpark.
Apple AR Glasses: Features
Like the HoloLens 2 and the Magic Leap One, Apple's AR glasses will superimpose 3D images onto the real world. This could be used in workplace settings, for example by making it easier for engineers to design car renders or allowing artists to collaboratively work on projects in a digital space. But unlike Microsoft, Apple seems to be taking a more mainstream consumer approach to its first AR hardware offering.
For starters, hints from an April 18 continuation patent suggests that it'll be able to be connected to iPhones, be chock full of sensors, and potentially come with incorporated speaker.
A built-in accelerometer could be used to detect head movement to control visual or songs being played on the glasses' proposed sound system. Here's the patent:
"The head-mounted apparatus defined in claim 1, wherein the accelerometer is configured to detect a head movement and the processor is configured to control the display based on the detected head movement."
Apple's AR glasses could also allow users to interact with apps and features using face and head gestures. An April 4 patent stated the device would track "chewing, blinking, winking, smiling, eyebrow raising, jaw motioning, mouth opening, and head gestures."
Capabilities like those could help users curb nervous habits, like clenching their jaw out of stress or biting their finger nails. But it could also let tilt their head to the right to move through a holographic photo album or wink when they want the glasses to take a picture with an on-board camera.
Some possible use-cases that have been floated so far? The headset could serve as a potential tour guide, using software to highlight and annotate points of interest or offer directions when a user is touring a new city, according to a recently renewed patent. It also detailed how the glasses could leverage Bluetooth to become a tracker for locating other lost devices. Here's Apple's language:
"…The present invention could also be applied to representing points of interest in a view of a real environment using an optical-see-through device. For example, the optical-see-through device has a semi-transparent screen, such as a semi-transparent spectacle or glasses."
The glasses might also enable smart holograms, that track users eye-movement and situate themselves on the screen based on where the user is looking. An April 2018 patent states the headset would use near-infrared cameras on either side of the wearer's face, emitting infrared light to track movement. This could enable videos or images to stay within someone's field of view when they're wearing the glasses and walking around. Here's a portion of the patent
"The portions of any given frame which are filtered using the respective filter layers may be selected dynamically based on the direction of the individual's gaze in various embodiments."
Finally, the AR glasses will lay the groundwork for the Apple Car system — code named Project Titan — which Kuo expects to hit roads in 2023 to 2025 with AR at its core. Leaks and rumors about have suggested that the vehicle software will use artificial intelligence in tandem with AR to highlight traffic signals and other roadsigns with holograms while users are driving.
Apple AR Glasses: What Is rOS?
It goes without saying that, in addition to developing the hardware, Apple will also need to develop a new operating system to serve augmented reality developers. Gurman's original report claimed that the glasses are in development under the umbrella codename "T288" and that they will run using an operating system called "rOS," short for "reality operating system."
The report and patents have suggested Apple is experimenting with a variety of control methods, including hand gestures, head movements, and Siri voice commands. Gurman went on to say that the company is also considering an "rOS App Store" with a roster of AR tools and experiences.
An AR app marketplace could work in tandem with Apple's ARKit 2.0, which already gives software developers the tools to create AR apps for iOS.
Apple AR Glasses: Design, Look & Feel
While the existing apps on ARKit and the published patents give us a sense of what Apple's AR glasses will do, their overall design remains a mystery. That hasn't stopped the internet from taking an educated guess to bring all the rumors to life.
Several of the best renders were produced and published by iDrop News a year ago, and take inspiration from Apple's love for minimalist design, editor Elijah Waeterling previously told Inverse.
"Our inspiration simply comes from Apple's ability to blend fashion with technology," he said. "Apple's products are never gaudy or obtrusive. Apple Glass is an AR headset that blends traditional style with all of the advanced technology we'd expect from Apple today and into the future."
In the renders, interchangeable soft leather covers adorn the arms, a decision that reflects the WHAT on the Apple Watch. When iDrop first made the renders, the arms were said to house Wi-fi, Bluetooth connectivity, and an internal processor. The end design might turn out to be slightly different, and could be slimmer, assuming that Kuo is right in suggesting that iPhone will be doing the computational heavy lifting.
While these renders should be taken with a grain of salt, if Apple is able to deliver sleek and lightweight AR glasses it would revolutionize the industry. Both Magic Leap and Microsoft's devices hold promise but remain bulky. If Apple gives the its headset the iPhone and iPod design treatment, it would effectively solve one of the biggest problems with AR headsets.
Apple AR Glasses: Potential Specs
Apple's headset has also been rumored to blow even the most high-end VR headsets out of the water. The pair of glasses could use an 8K resolution display for each eye, according to an April 2018 CNET report. That would far exceed the lies of the HTC Vive, that clock in at 1,080 by 1,200 pixels per eye.
The headset would use 60GHz WiGig technology to communicate with a platform that uses a five-nanometer chip, using tighter transistors than the ones found in the 7nm iPhone XS processor. But of course, since the headset and iPhones are expected to work in tandem, these specs could be referring to the 2020 iPhones, which are indeed expected to launch with 5nm "A14" TSMC chips.
Currently, the iPhone XS's A12 bionic chip already packs the computational power of a laptop inside a handheld device. Instead of tethering its AR glasses to a computer, like many VR rigs, Apple could take advantage of the small computer in consumers' pockets. But many questions remain unanswered.
It's still unclear how Apple plans on actually syncing future iPhones their glasses, for example, or what other applications could be ready by the time they launch. But as the expected launch date gets closer, we'll know a lot more about how Apple envisions its future AR hardware and, by extension, how it envisions the post-screen world.