Future iPhones Will Shine With Augmented Reality, Ex-Apple Engineer Claims
Ken Kocienda claims the technology is abut to enter a new era.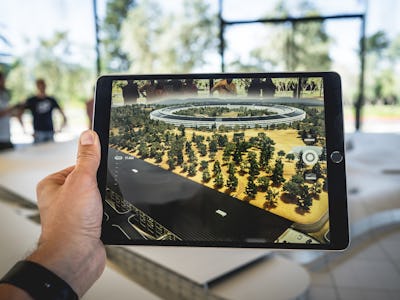 Unsplash / Patrick Schneider
Apple is gearing up to launch three new iPhones, and it could mark the start of a new super-connected era for smartphones. Ken Kocienda, who previously worked for the company as an engineer, explained in an interview this week how augmented reality is possibly the technology that will carry Apple past its $1 trillion valuation to new highs.
The company's latest phones have focused on face recognition and larger screens, but internally the newest processors are fast enough to enable interaction with virtual worlds superimposed over camera feeds. Kocienda told CNBC that augmented reality was going to be the company's next big hit, as "you can take your phone and you could point its camera at something in the world," enabling it to "tap into the network — the hardware and software — and would all collaborate." Kocienda, the mastermind behind the iPhone and iPad software keyboard, was speaking after the launch of his book "Creative Selection" that details his 15 years working for the company.
See more: Apple Employee Reveals How iPhone Keyboard Came to Life
Apple has expressed strong interest in bringing augmented reality to life. "ARKit," introduced with iOS 11, enables devices with an A9 chip or newer to run apps that enable exploration of new virtual worlds. iOS 12, set to launch later this fall, will include a new "Measure" app to observe the size of objects without requiring a tape measure. The upgrades also enable multiplayer games. The updates have already led to creative uses like a business card that expands when held in front of the camera.
CEO Tim Cook has also spoken before about the potential for augmented reality as an avenue of exploration over virtual reality. In an October 2016 interview, Cook said that there was "no substitute for human contact," describing VR as having "some interesting applications," but not as "broad-based" uses because it restricts social interaction. Cook said the following year the technology made him want to "yell out and scream."
Apple is set to unveil its new devices on September 12 at 10 a.m. Pacific time, with consumers expecting three new iPhones to hit shelves.
It could be the start of something bigger. A previous report, referring to internal project "T288," claimed Apple would release an augmented reality headset with 8K resolution for each eye to wirelessly connect to a powerful box using 60GHz WiGig. If true, it would make the iPhone a stepping stone to this new approach.