Apple Employee Reveals How iPhone Keyboard Came to Life
Ken Kocienda helped define the smartphone industry.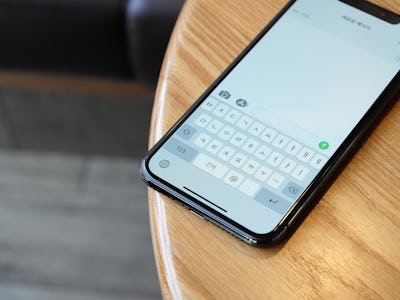 Flickr / TheBetterDay
The iPhone revolutionized the smartphone industry when it launched 11 years ago, but it nearly ended up with a very different look. An extract from an upcoming book on Wednesday reveals how Apple employee Ken Kocienda struggled to create a touchscreen keyboard that felt intuitive yet usable — and it almost ended out looking very different.
Kocienda, who worked at Apple for 15 years until 2016, details in an extract previewed by 9to5Mac that the keyboard was a big point of contention. The designers declared that buttons had to be 44 pixels wide for comfortable tapping, but the entire iPhone screen was only 320 pixels wide. Kocienda created a number of designs in October 2005, like a ribbon of letters spanning A to Z that would show a zoomed-in view of buttons in a ribbon above, and a keyboard similar to the multi-letter designs on regular phones, with "qwe" on one button, "rt" on another and so on.
See more: iOS 12 Beta Leak Hints at an Even Larger iPhone X Plus
Although the design got the thumbs-up from software head Scott Forstall, it received less-than-impressed reviews from marketing executive Phil Schiller and head of iPod Tony Fadell. The design ultimately didn't make it to the final product, and when CEO Steve Jobs took to the stage at the Macworld conference in January 2007, he showed a keyboard that analyzes user taps and changes the size of tap targets depending on the letter likely to come next. When you type "tim," for example, the phone makes the target for the letter "e" a bit larger.
This has become less of a design issue in later years. The original iPhone screen was just 3.5 inches, only moving to four inches with the iPhone 5 in 2012. With the launch of the iPhone 6 and 6 Plus, Apple started shipping devices with screens up to 5.5 inches diagonal. This is set to get even larger later this year with the 6.5-inch iPhone X Plus, with plenty of room to tap the next letter on the keyboard. Still, the anecdote serves as a nice reminder of how constrained mobile development was in its early years.
Kocienda's book, Creative Selection, is set to hit stores on September 4.