This Hands-on Video With the Next iPhone Makes the iPhone 8 Look Antique
The new phone is set to hit stores next month.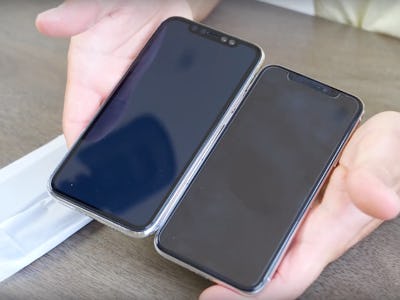 EverythingApplePro/YouTube
Apple's next iPhone is almost here, and it looks set to stun. YouTube account "EverythingApplePro" shared hands-on dummy footage this week that shows how the successor to the iPhone X will make the company's previous phones look decidedly ancient by comparison. The new releases are set to bring the X's home button-free design to two new price points, broadening the number of people rocking the face scanner.
The models, supplied by leaker Benjamin Geskin, show how Apple plans to introduce a 6.1-inch LCD model and a 6.5-inch OLED model alongside an upgrade to the existing 5.8-inch OLED iPhone X. The LCD model will serve as the cheapest of the three, with analyst Ming-Chi Kuo predicting a tag of $699, as it's expected to also drop premium features like a dual camera lens and force-sensitive 3D Touch. The 5.8-inch model will likely receive small upgrades like a faster processor, while dropping to a $899 price point as the 6.5-inch model takes the $999 spot.
*See more: iPhone 2018 Leak Shows How Apple's Discount Model Will Stun
The video shows that, while a 6.5-inch screen sounds gargantuan, the largest device measures up to around the same size as the 5.5-inch iPhone 8 Plus. Apple's decision to increase the display size by removing the home button and introducing a face scanner (albeit with a "notch" at the top) has allowed the company to offer more space for content without making a larger phone, even if the screen real estate is cut by the corners on the top and bottom.
On the 6.1-inch end, Apple's device will replace the iPhone 8 as the cheapest flagship phone. Similar to how its predecessor came in a variety of colors including red, Kuo claims the new phone will offer a series of choices like "grey, white, blue, red and orange."
Apple has yet to announce the next iPhones, but previous years suggest the company will reveal the phones at a fall event, close to the launch of the next iOS software update.
The 6.1-inch device may launch a bit later, though, with one analyst claiming Apple will struggle with the LCD production.