This 20-Year-Old is Leaking Apple's iPhone 8 Secrets
Benjamin Geskin has beaten Tim Cook at his own game.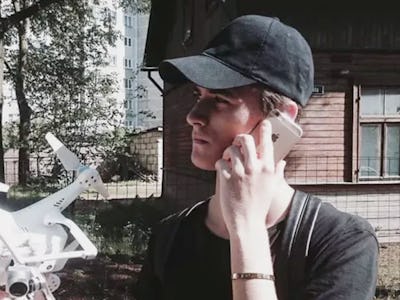 venyageskin/Instagram
When Apple CEO Tim Cook said his company was "doubling down" on secrecy, he probably didn't count on Benjamin Geskin stepping onto the scene. The 20-year-old Latvian college student has become the envy of the Apple world, revealing the secrets around the company's next iPhone.
The iPhone 8, launching in the tenth year of the iPhone's existence, is going to be big. We know it's probably going to launch in the fall — Geskin leaked a staff memo — and we know Apple has been testing two different designs. A 5.8-inch OLED screen, thin bezels, wireless charging, glass backing, 3D front cameras. Essentially, anything you've heard about Apple's next big thing, Geskin probably leaked at some point.
In between leaks, he's a design student at the Riga International School of Economics and Business Administration who has defended his work to academics, and expects to receive his diploma in the next few weeks.
It's an impressive resume, but surprisingly, the iPhone 8 is Geskin's first leak — "and I think not last," he tells Inverse. Geskin took some time out of breaking news to talk about his sources for iPhone 8 leaks.
When did you first start getting involved in these leaks?
So, it all started with other peoples' leaks, and my feature was to make fast renderings. I wanted to show people how the products will look before the official announcement. I combined rumors with photo and schematics leaks to create renderings of what these products will look like. I've been making these renderings for three years now, two of which I've been sharing them on Twitter.
Eventually, my renders started to get very popular in China, and some people contacted me, and provided some information and pictures.
Do your friends and family know about what you do? What do they think?
Yes they know. They think this is something special and exciting. They are happy for me because I enjoy this stuff.
How do you leak a product?
I receive info, photos, check by myself, see if it's real and interesting for people to see, and then I post it. Some things can't be posted. I'll say 50 percent of pictures and info I get. But it's very interesting and exciting for me.
Conversation takes place mostly on WeChat. Source writes me in Chinese language, I in English. There is a built-in Microsoft translator that we both use. Some sources text me on WhatsApp.
The people, some are case manufacturers. Some are close to the iPhone production line. Some friends work there.
I check personally if information is legit and also interesting for people. Some information and images I get I can't share. There is some level of danger.
Could you explain what you mean by "danger"?
Some people in China are now with the police, arrested, some money fee. I think some images are very rare, exclusive, and if Apple or some others saw it online, they would probably know where it came from. Who shared it, how it was leaked.
Or just Apple shouldn't know that these images are going through people online. Fifty percent of images I received I can't share. Sources tell me not to share, but I think they share it with me anyway so I can make accurate renders.
What does a regular day look like for you?
I look at Twitter a lot. I draw something maybe. I contact sources, ask for news. Nothing crazy.
What is the leak you're most proud of?
For me, the first info and renders on new iPhone 8 design. Four millimeter bezels all around. Vertical camera with flash in there. That was very awesome. And, of course, the iPhone 8 dummy hands-on video, with two millions views in two days:
Why do you leak, what motivates you?
I'm a big tech and Apple fan. It's very interesting for me and I hope for the people, my followers.
As a leaker, what do you think of the iPhone 8?
I think it's going to be a very, very great device. Premium and unique. With gorgeous rounded full face OLED display. Amazing cameras, iOS 11, great battery life and wireless charging.
You have leaked details for possibly the biggest product launch of the year. What would you say to Tim Cook if you met him?
I would say, sorry if I ruined iPhone 7 sales! And thank you for your amazing work.
This interview has been edited for clarity and brevity