Shocking iPhone 8 Leak Sparks Fears Around Major Design Letdown
Is Apple considering this move again?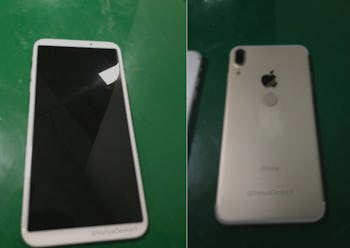 Benjamin Geskin/Twitter
A new set of leaked iPhone schematics has led to fears Apple may be scaling back on its ambitious plans to redesign its flagship smartphone. The iPhone 8, rumored to launch later this year, is expected to feature an edge-to-edge display and new 3D scanning features, but one of the great unknowns is whether Apple will succeed in rumored plans to build the fingerprint scanner under the screen.
Two designs have leaked over recent months. The first is a phone that looks similar to the current iPhone 7, except the fingerprint scanner is placed on the back and the screen is extended to the base of the device. The other places the scanner under the screen, and even cuts the earpiece into the screen area to extend the display further into the top corners. The latter, which looks more futuristic than the former, has gradually become the source of most leaks as the launch approaches.
But on Friday, prolific Apple leaker Benjamin Geskin posted new photos and schematics on his Twitter page that could suggest the company is still considering the less ambitious design. Geskin tells Inverse that he would "hate to see" this design win the day, but the leak shows the design may not be off the cards entirely just yet.
The leak led to several people describing the device as "ugly." "If they make this the Anniversary Edition I'm done with Apple," said Twitter user Splyszn.
From an engineering standpoint, this design would be simpler as it uses the same technologies present on existing devices. A report last month suggested Apple would hide the fingerprint scanner under the screen by switching to optical scanning technology, which could work through glass, as opposed to the current capacitive system that involves detecting the movement of electrons through skin. This would represent a dramatic shift in iPhone design, though, and reports suggest the new technology has been causing yield issues, which means Apple would struggle to produce enough phones.
Geskin does not believe that this will be the final design, but until Apple reveals the final design later this year, it's possible the next iPhone will be less revolutionary than expected.