Apple Car Will Beat Others With Stunning Augmented Reality, Report Claims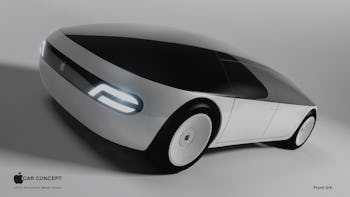 Aristomenis Tsirbas/Freelancer
The Apple Car is still on track, and it's going to launch soon. That's according to TF International Securities analyst Ming-Chi Kuo, who published a Tuesday report detailing the firm's upcoming hardware roadmap that will double its $1 trillion market cap to reach all-new levels.
The report, shared by MacRumors, claims that the Apple Car will launch somewhere around 2023 and 2025 as the "next star product." While previous reports around the company's secretive project suggest Apple would instead develop an autonomous driving technology for use with other vehicles, Kuo claims that Apple will release its own branded car for four reasons: the automotive sector is being redefined by technology in the same way as the smartphone industry 10 years ago, Apple can differentiate with augmented reality and other technologies, car financing would help Apple's services sector grow, and the company could do a better job of integrating hardware and software than existing automakers.
See more: Apple Autonomous Car Project: Employee Charged With Stealing Secrets
The existence of Apple's "Project Titan" autonomous car team is something of an open secret at this stage. CEO Tim Cook confirmed the company is working on "autonomous systems" back in June 2017, two months after Apple joined a list of 30 automakers registered with the California DMV for testing self-driving technology. The project gives Apple a chance to apply its A.I. expertise to a developing sector, which Cook described as "the mother of all A.I. projects" and "probably one of the most difficult A.I. projects to work on."
Initially expected to take the form of an Apple-built car, the project reportedly switched to working with existing cars back in October 2016, a decision met with skepticism. In November 2017, the team released its first research paper, just one month after a Lexus was spotted driving round with 12 lidar sensors the roof, a contraption the video uploader claimed was from the "Titan" project.
The project's internal team has undergone key changes in recent months. One former employee, Xiaolang Zhang, was arrested last month charged with stealing trade secrets after leaving the project. Doug Field, who oversaw production of the Tesla Model 3, rejoined Apple this month to reportedly help project lead Bob Mansfield on the project.
Don't count on Field's move showing any signs of Tesla-Apple collaboration, though. Tesla is set to ship its autonomous car chip in around six months' time, and when asked about Apple collaboration in May 2017, CEO Elon Musk just laughed.