Tim Cook Just Confirmed the Apple Car Project Is Real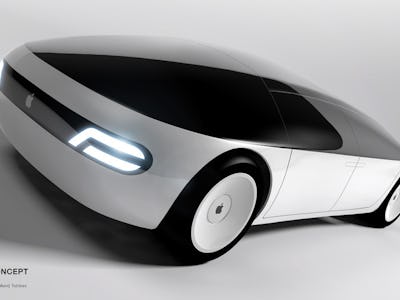 Aristomenis Tsirbas/Freelancer
Apple's car project is official. During a press interview last week, CEO Tim Cook made the shocking announcement, confirming a long-standing rumor that the tech giant has its sights on developing technology to conquer the roads.
"We're focusing on autonomous systems," Cook said in an interview with Bloomberg on Tuesday. "We sort of see it as the mother of all A.I. projects. It's probably one of the most difficult A.I. projects to work on."
It's an exciting announcement, but in many ways, it was one of Apple's worst-kept secrets. The California DMV listed Apple in April of this year as one of 30 companies licensed to test autonomous vehicles in the state, alongside big names like Tesla, Mercedes-Benz, Volkswagen, and Google. Apple is joining a crowded field, and it will be interesting to see how it thinks it can distinguish itself.
Unfortunately, the company has not yet decided whether the project means you'll one day drive an Apple-branded car, or if the project will only extend as far as software for other automakers to deploy in their own vehicles. A car designed from Apple, start to finish, is probably what most fans think of when they hear "Apple car," but a car powered by Apple software could also satisfy followers' thirst.
"Autonomy is something that's incredibly exciting for us, but we'll see where it takes us," Cook said. "We're not really saying from a product point of view what we will do but we are being straightforward that it's a core technology that we view as very important."
Cook also touched on what he sees as the two other pillars in modern automotive technology: electric motors and ride sharing. Apple has arguably also helped develop ridesharing into the multi-billion dollar industry it is today, with the iPhone and iOS creating a platform for the likes of Uber to develop apps. In iOS 10, Apple has expanded Siri to enable users to hail a ride using only their voice.
But Cook also praised electric vehicles, an interesting technology to single out. Cook was spotted in 2016 driving a BMW 5 Series, but it's possible he's now made the switch to electric.
"If you've driven an all-electric car, it's actually a marvelous experience," Cook said. "It's a marvelous experience not to stop at the filling station or gas station."