Apple Just Released Its First Official Self-Driving Car Research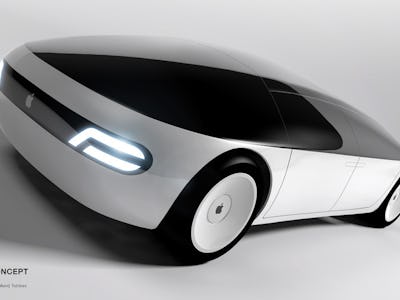 Aristomenis Tsirbas/Freelancer
Apple has released what appears to be the company's first public research into autonomous vehicles, a major step forward in an area that CEO Tim Cook once described as "the mother of all A.I. projects." The paper describes how cars using lidar can easily detect pedestrians and cyclists when moving down a street.
Reuters reports that the research describes a system called "VoxelNet," which could enable autonomous car makers to detect objects with just the lidar system. The depth-sensing device shoots lasers at objects and measures how long it takes to come back, but it's normally paired with a camera to improve object sensing. With "VoxelNet," the team saw "encouraging results" with a system that only used lidar to detect pedestrians.
The paper, entitled "VoxelNet: End-to-End Learning for Point Cloud Based 3D Object Detection," was submitted to arXiv on November 17 with credit to Yin Zhou and Oncel Tuze.
It's a big step forward in Apple's autonomous car project, which has remained mysterious and unclear in its end goals. The "Project Titan" team reportedly lost hundreds of employees last October, as it shifted from manufacturing a car from scratch to just creating the software and working with partners. In June, Tim Cook talked about "autonomous systems" as a focus at the company, suggesting the company was dedicated to the software side of things.
However, new footage last month of an Apple car setup in action suggested the company has some interest in hardware setups. The "thing," as Voyage's director of growth MacCallister Higgins referred to it in his video, houses 12 Lidar sensors, six on the front and six on the back, alongside radar technology:
Apple is one of the few companies cleared to test autonomous cars by the California DMV, but industry insiders remain in the dark about where the company will move from here.
"I don't know what they're going to do on the car front; it's not clear," Tesla CEO Elon Musk said during the company's first quarter financial earnings call in May.
The question remains as to whether "VoxelNet" will appear in an Apple-branded hardware kit, whether it sees the light of day as part of a software package for third party cars, or if it ever gets used in a shipping product at all.