Musk Reads: New Starships are taking shape
SpaceX starts work on more Starships; the moon base faces a tough challenge; and Starlink aims for even more satellites.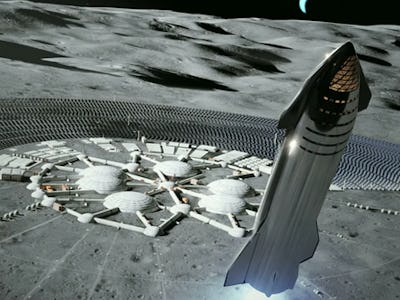 SpaceX starts work on more Starships; the moon base faces a tough challenge; and Starlink aims for even more satellites. It's Musk Reads: SpaceX Edition #114.
A version of this article appeared in the "Musk Reads" newsletter. Sign up for free here.
Musk quote of the week
"Anyone who's interested in working on cutting edge manufacturing — designing & building the machine that makes the machine — please consider working at Tesla or SpaceX. We're gonna take this to a whole new level!"
SpaceX Starship
The Starship is approaching fast. New aerial video footage last week showed the company's Florida facility working on what appeared to be two new prototypes of the Mars-bound vessel. Based on Musk's comments and proposed schedules, the new ships should be Mk 2 and Mk 4. Mk 1 was unveiled in Texas in September, and Musk claimed at the event that Mk 3 would be built at the same facility. Musk also previously suggested that any ship from the Mk 3 to the Mk 5 could potentially host an orbital flight, which means this footage could offer the first glimpse of the Starship that will fly to orbit. Read more.
Starship's moon base could face a stumbling block. Musk explained last week that one of the major hurdles to building a moon base akin to the Mars city would be finding sources of carbon. On Mars, the carbon dioxide in the air would be used to create more rocket fuel, meaning a moon base without the same access to an atmosphere may have to follow a different trajectory. Read more.
Where will the Mars base source the energy to create more fuel? Based on Musk's latest comments, it could require a solar panel array offering somewhere between one and 10 megawatts of energy. Robert Zubrin, author of several books about visiting Mars, claimed that this would likely result in a solar array measuring 40,000 square meters, the equivalent of four football pitches. Read more.
In other SpaceX news…
How many Starlink satellites will SpaceX need to offer high-speed internet? The company filed documents last week to pave the groundwork for a further 30,000 crafts orbiting the Earth, on top of the 12,000 authorities who previously agreed with it. Eagle-eyed followers may note that the revised figure bears resemblance to a certain Douglas Adams novel.
Whether this is going to fill Earth's orbit with spacecraft depends on your perspective. There are around 5,000 satellites orbiting the Earth right now, but the ESA already has to avoid around 900,000 objects orbiting the Earth that measure one centimeter or more. Hugh Lewis, a professor at the University of Southampton, told New Scientist that "with that many satellites, there does need to be a very, very close look at the collision risk, disposal, and re-entry risks." Read more.
What's next for SpaceX: SpaceX is set to launch another set of 60 Starlink satellites for its internet connectivity constellation at an as-yet-unspecified date. The launch was originally set for October 17 but has since been pushed back. It's expected to take off from Space Launch Complex 40 at the Cape Canaveral Air Force Station in Florida.
Musk Reads mailroom
Daniel Sabido writes:
Love the newsletter, keep up the good work! I'm anal about this, so couldn't help myself: "Boca Chica" is literally "Small Mouth" in Spanish. No need to go to Italian for this one.
Last week's Musk Reads featured a discussion about how the name of SpaceX's Starship facility sounds similar to the Italian phrase "bocca cieca," or "blind mouth." But as Sabido notes, the name of the facility already means "small mouth" in Spanish.
Elizabeth Jane writes
I suggest changing "Boca Chica" to "Alfa Base Terrestre", which is Italian for Earth Base Alpha, a literary reference to Space: 1999.
It wouldn't be the first time Musk had made a sci-fi reference through his companies' work. Could the Texas facility follow in their footsteps?
Got any comments or queries? Don't forget to send them over to muskreads@inverse.com.
Photo of the week
Paul Wooster, principal Mars development engineer for SpaceX, unveils a new image of the Starship on the moon at the Mars Society Convention over the weekend.
The Elonporium
Subscribe to Inverse Loot and learn about these deals first.
The ultra-fine print
This has been Musk Reads: SpaceX Edition #114, the weekly rundown of essential reading about futurist and entrepreneur Elon Musk. I'm Mike Brown, an innovation journalist for Inverse.
A version of this article appeared in the "Musk Reads" newsletter. Sign up for free here.