Elon Musk Just Reached a 'Hitchhiker's Guide'-Themed Boring Co. Milestone
Musk sure does like his sci-fi references.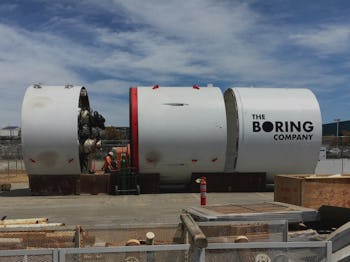 Elon Musk's digging efforts are paying off. The tech entrepreneur behind Tesla and SpaceX has been working to revolutionize transportation networks underground, and it's using a novel funding strategy to make it happen. The Boring Company, a venture started earlier this year, has been selling hats to fund its goal of building intricate networks of underground tunnels spanning up to 30 layers deep.
On Saturday, Musk announced the company had reached a major goal in its hat-based efforts. The company has sold 42,000 units of the $20 headgear, meaning the company has raised $840,000 of its "cap order" of $1 million worth of sales. Musk commemorated the milestone with a cryptic post on his Twitter page: "HG2G."
In classic Musk fashion, the milestone is a reference to the Douglas Adams sci-fi novel The Hitchhiker's Guide to the Galaxy, where a computer called Deep Thought claims that "42" is the answer to the ultimate question of life, the universe, and everything. Deep Thought points out that the answer seems meaningless because nobody knows the corresponding ultimate question.
The scene was immortalized in the 2005 movie based on the book:
Musk has a habit of weaving sci-fi jokes into his work. Earlier this month, he revealed that he got the idea to fund his venture through merchandising from a scene 1987 sci-fi comedy Spaceballs. The Tesla Model S and Roadster contain Ludicrous and Plaid performance modes, another reference to Spaceballs. With SpaceX, Musk named his droneships Just Read the Instructions and Of Course I Still Love You, an homage to Iain M. Banks' Culture novels. Musk has also floated the idea of naming the ship that travels to Mars the Heart of Gold, another Adams reference.
While the characters in Adams' novel got an answer without knowing the question, Musk has been very upfront about the questions The Boring Company wants to answer. He first revealed the name of his venture last December, when he said traffic was "driving me nuts." The company aims to use underground tunnels to alleviate congestion, with projects planned like a hyperloop service from New York to Washington, D.C., a more traditional "loop" from Chicago's O'Hare Airport to downtown, and a futuristic sled system that can transport cars at up to 125 miles per hour.
It's not quite the answer to life, the universe and everything, but if it means actually getting to work on time, Musk will probably have a lot of satisfied customers.