The Best Halloween Costumes Under $20
Sometimes imagination is your best accessory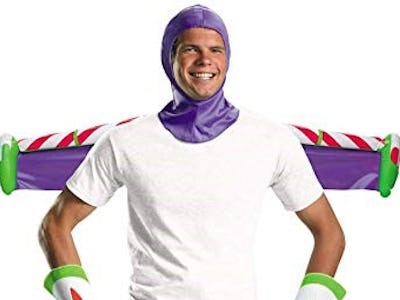 Amazon
If you want a Halloween costume for under $20, you better have some imagination… and access to a few props. Most of what's available for under $20 isn't exactly a full costume. Instead you'll find wigs, masks, or accessories, like a pirate's vest. You'll have to add whatever you have in your closet to make it work.
But don't get tricked into thinking a cheap costume is impossible. We've found some costumes that come in at less than 20 bucks, and we've got some ideas of what you can do to take a partial costume that's in your budget and run with it.
Why We Picked It The benefit of this hot dog option is that it's a complete costume for under $20, and it looks pretty comfortable. Reviewers on Amazon recommend adding some padding in the interior pockets to make the costume look plumper (after all, who wants a squashed hot dog bun?). But it's definitely fun and it'll get a laugh… and what more do you want for 20 bucks?
Why We Picked It This hooded cloak is reversible, and it'll let you take this costume wherever your imagination takes you. Be a wizard: Gandalf, Snape, Voldemort, take your pick. Or add some fangs and be Dracula. Put dressy clothes on underneath it and transform into royalty. Or turn it to the red side and be Little Red Riding Hood. The fabric has a satiny sheen, and the cloak is also available in blue, green, or purple, if that sparks your imagination more.
Why We Picked It This isn't a complete costume, but the accessories in this kit get the Buzz Lightyear idea across just fine. You get the hood, gloves, and inflatable jet pack. (Many reviewers mention the straps on the jet pack are way too small, so you may have to find a creative way to keep it on your back.) If you don't happen to have a spacesuit in your closet, a white T-shirt or sweater will complete the look.
Why We Picked It Not the most original of costumes, but this prison jumpsuit looks pretty realistic and the look doesn't require any accessories. It even comes with the name tag. The costume is made of polyester, and that bright orange will help you stand out in a crowd. It's also washable, if you plan to be a repeat offender, err, costume-wearer.