Inverse Daily: The Wild Plan to Save Antarctica With 'Snow Cannons'
Few things are more outrageous than the plan climate scientists described on Wednesday to replace the rapidly diminishing West Antarctic Ice Sheet.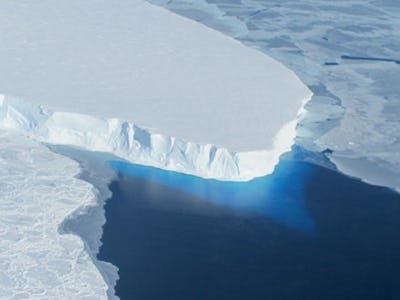 Hello, Inverse Daily fam. While I'm realizing how many questions I had about what happened to '90s tween star Jonathan Taylor Thomas, let's get you caught up on today's news.
You're reading an adapted version of the Inverse Daily newsletter. Subscribe for free and earn rewards for reading every day.
Remember: This week, we're giving one lucky reader new Apple AirPods and a Sony Bluetooth Speaker.
All you have to do is enter your email here and we'll announce the winner in our Friday email. Good luck!
INVERSE QUOTE OF THE DAY
"This outlook for US desert national parks is dire."
— Scientists reporting that America's iconic Joshua trees face extinction by 2070 unless swift action is taken.
Future, Tense
If you've been anywhere near a social media feed in the past week, you've undoubtedly encountered photos of your acquaintances looking a lot older than usual. They're the work of FaceApp, an app that applies a strong aging filter to photos to make people look like senior citizen versions of themselves. The effect is powerful — and very unsettling. (Like many users, I discovered I'm just turning into my mom.)
There have been concerns that this seemingly free horror show comes at a price — specifically, access to your entire photo library. As innovation fellow Ben Powers writes, however, there's no reason to be too worried. Learn more.
Innovation editor James Dennin points out that it may actually come with perks. According to some scientists, seeing an aged version of yourself can make you more conscientious in the present. Learn more.
For those of you who are still perplexed about what, exactly, is different on an old version of a face, Emma Betuel has a great explanation involving 40 Rembrandt self-portraits. Learn more.
The more you know:
No Idea Off the Table
The West Antarctic Ice Sheet is melting so fast that scientists have called the process "irreversible." If it melts, it won't just contribute several inches but several feet to sea level rise, which would be devastating. Since policymakers have moved too slowly to quell the climate crisis in time, we are in increasingly dire need of solutions. The new one that Peter Hess wrote about is especially audacious, but at this point, we've got to stay open-minded.
In a nutshell, the team proposes that we use "snow cannons," which draw water from the nearby sea to blast fake snow into the sky over Antarctica so that it settles on the melting continent, preventing the whole thing from disintegrating. According to their model, if we produce a minimum of 7,400 gigatons of snow over 10 years, the flow of ice melt will stabilize. Sure, we're going to need a lot of energy to power the desalinator and cannons, but hey — have you got any better ideas?
Read up on the benefits and many, many costs of this ambitious plan.
The more you know:
Zombie Death Grip
It seems like ages ago that the BBC nature documentary, Planet Earth, introduced the cordyceps fungus to the world on a global stage. When the now-notorious parasite infects ants, it seems to take over their minds and bodies, forcing poisoned individuals to climb up a tall branch or stem and clamp down with their jaws — the infamous death grip — becoming immobilized. Frozen in place, horror ensues. From within the zombie ant's body, living growths suddenly burst forth. These eventually burst forth with spores, starting the infectious process all over again.
The process is well-documented, but some aspects remain poorly understood. Now, however, scientists have come up with two competing explanations for the death grip, which appears to be caused by the jaws essentially locking into place. One suggests the fungus itself causes muscle contraction through chemicals that it releases; the other says that the fungus induces the ant brain to release grip-tightening compounds. They still don't know which, but both are freaky.
Learn more about the "zombie" ants here.
The more you know:
Instagram-Worthy
You know when you see a good Instagram opportunity — great lighting, a picturesque view, and the suggestion that you are on vacation are all factors that make for a great photo. A popular spot on the outskirts of the Siberian city of Novosibirsk combine all three for photos that are as gorgeous as they are dangerous. In an increasing number of Instagram posts from the area, a tropical blue lagoon of water and white dunes stretch out behind excited selfie-takers. The problem is, the beach isn't what it seems.
They are the result of a nearby coal-burning power and heating plant, which provides electricity and heat for over a million residents but also produces tons of ash waste. Metals and salts in coal ash has turned the liquid in the Novosibirsk plant's dump a bright blue, making the chemical waste disposal site look like a tropical getaway. Whatever you do, don't get in the water.
Check out photos from the (admittedly pretty) waste dump here.
The more you know:
On the Shoulders of Giants
Elon Musk's brain-machine interface, Neuralink, sounds like something out of the year 3000. But scientists have been trying to make brain-controlled devices since at least 1969. Fortunately, the Neuralink team respects its forebears. In his talk on Tuesday night, company president Max Hodak singled out a paper from 2003 that he called a "classic" in the field.
The paper answered two crucial questions about brain-machine interfaces: If the device needs input from neurons, then how many should they monitor? And which ones? The answer is a lot, and over many regions of the brain. Through their experiments on macaques trained to control a robotic arm with their brains, the team lay some of the foundations for Neuralink's tech, which presents a way to study thousands of neurons over a wide area in a minimally invasive way.
Read the "classic" paper here.
The more you know:
Meanwhile …
Inverse Loot
Subscribe to Inverse Loot and learn about these deals first.
Thanks for reading, gang!
What do you think about FaceApp and its uncanny ability to age your face? Let me know at yasmin@inverse.com.
Will you still feed me, when I'm sixty-four?
— Yasmin