FaceApp Removes 'Blackface' Filters From Its A.I. Selfie App
The feature was removed hours after it was introduced.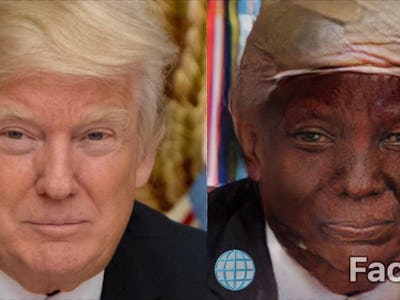 FaceApp
FaceApp, the A.I.-powered smartphone app that transforms users' selfies, removed a series of new ethnicity filters on Thursday, just hours after releasing them via a software update. The update, which allowed users to pick from Caucasian, Asian, Indian or Black, was criticized by users as racist.
The app, which takes user-submitted photos and adds select features, is trained using machine learning on a large number of photos of people's faces to identify distinguishing features. When the feature was released on Wednesday, FaceApp sent out a smartphone notification informing users of the new filters. Initially, the company defended the filters as neither positive nor negative.
"The ethnicity change filters have been designed to be equal in all aspects," Yaroslav Goncharov, the app's creator, told Mic in an email. "They don't have any positive or negative connotations associated with them. They are even represented by the same icon. In addition to that, the list of those filters is shuffled for every photo, so each user sees them in a different order."
But then, just five hours after the report was published, Goncharov's team changed its mind and removed the feature.
It's not the first time users have criticized FaceApp for racism. When the app surged in popularity in April, users found the app's "hotness" filter lightened skin tones:
"We are deeply sorry for this unquestionably serious issue," Goncharov told TechCrunch at the time, regarding the "hotness" filter. "It is an unfortunate side-effect of the underlying neural network caused by the training set bias, not intended behaviour. To mitigate the issue, we have renamed the effect to exclude any positive connotation associated with it. We are also working on the complete fix that should arrive soon."
In follow-up public comments about the "hotness" filter, Goncharov refused to share more details about FaceApp's system, instead telling The Outline: "We assembled our own data set for training."
It's not the first time an augmented reality filter app has come under hot water for attempting to alter ethnicity. Last year, on April 20, Snapchat was criticized for its Bob Marley filter that darkened users' skin and added dreadlocks.