With 4/20 Filter, Snapchat Wanted to "Give People a New Way to Share Their Appreciation for Bob Marley"
This is not an appropriate way to celebrate the holiday.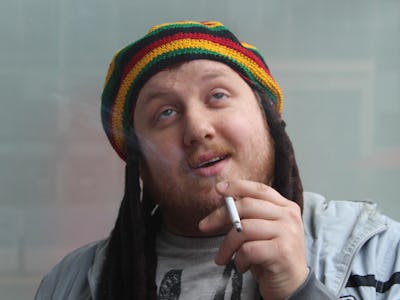 Flickr/RosiePosieTosie
Snapchat's frequently updated facial filters make the social media app one of the most fun and engaging platforms available. Some of the facial filters that crop up are completely random, like the one that turns your face into a friendly dog or the various ones that contort your features, while others are specifically timely, like the Coachella filter that places a flower crown on your head or the holiday-related Easter bunny filter. While Snapchat's filters are innocent fun for the most part, today a Bob Marley filter popped up to celebrate 4/20, a cringe-inducing move by Snapchat.
The Bob Marley filter, which appeared this morning, is a blackface filter with a few additional controversial embellishments. Aside from darkening the subject's complexion to match that of Bob Marley's, the filter superimposes a Rastafarian tam on the subject's head, drapes some dreads along the sides of the face, and adds a slight mustache. It also inexplicably adds a slight skin crease between the eyebrows, making the filtered face appear more concerned than it was before.
Internationally acclaimed reggae star Bob Marley smoked a lot of weed during his life, but his impact on reggae music is more profound than his stoner friendly attitude. To reduce Marley to nothing more than a proponent of weed is another problem with this Snapchat filter, although that cliché has already been perpetuated for decades by college freshmen hanging up Bob Marley posters in their room or repeating the phrase "one love" when they're high. Worship Marley for creating an idyllic smoking experience, but let's refrain from literally becoming him, shall we?
America's history of slavery and racism has preserved a long line of white insensitivity toward black culture. While we're still not anywhere close to being where we need to be on racial matters in 2016, it's the duty of white people to push progress forward by honoring certain parts of black culture as separate from our own. Controversies over cultural appropriation signal the rising awareness that black culture should not be exploited for the benefit of white people — and a blackface filter available to millions of white people is a huge step backward.
A representative from Snapchat responded to our request for a comment about the backlash the filter has generated: "The lens we launched today was created in partnership with the Bob Marley Estate, and gives people a new way to share their appreciation for Bob Marley and his music. Millions of Snapchatters have enjoyed Bob Marley's music, and we respect his life and achievements."
Sure, get high with your friends on this holiday and listen to "Three Little Birds," but at this point, I'm not so sure that "every little thing is gonna be alright."