Brett Gelman Reveals the True Story Behind That 'Stranger Things' Voicemail
The 'Stranger Things' star talks Season 4, his 'Fleabag' role, and an unexpected future project.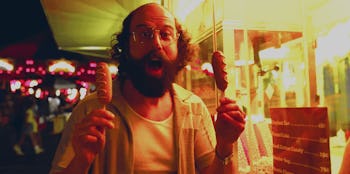 Netflix
2019 might just be the year of Brett Gelman. Between Stranger Things, where he plays a lovable paranoid schlub (Murray Bauman), and Fleabag, where he plays pretty much the same role, just with a drinking problem and none of the charm (Martin), the 42-year-old comedian has carved out a niche for himself as one of the most entertaining supporting characters on two of the biggest shows of the year.
"I thank the heavens for this year and for these two show," Gelman tells Inverse. "I'm on the best hour and best half-hour on television, both of which are created by really ingenious people."
While the fate of Fleabag remains unclear — its creator and star, Phoebe Waller-Bridge, says there won't be a Season 3 — Stranger Things is all but confirmed to return for a fourth season, and Gelman's character, a conspiracy theorist who's fluent in Russian, seems primed for an even bigger role as the science-fiction behemoth expands its worldview beyond Hawkins, Indiana and embraces Cold War geopolitics.
Gelman doesn't know anything about who the American is at the end of Season 3, what happened to Hopper, or even what that secret voicemail was all about. ("The Duffers were just like, we wrote a voicemail message for you to do, will you do it?" he says.) But in an interview, he revealed some behind-the-scenes secrets from Stranger Things Season 3, along with his hopes for Season 4, where he thinks his Fleabag character could be headed next — it's not looking good — and how he plans to turn the cult-classic "Tim and Gelman" sketches he did with Tim Heidecker into a full-length movie.
This interview has been edited for clarity and brevity.
Back in Stranger Things Season 2, you pushed Nancy and Jonathan to hook up. In Season 3, you did the same thing for Joyce Byers (Winona Ryder) and Jim Hopper (David Harbour). Is that just your thing on the show?
"I'm the yenta of Stranger Things
Right. I mean, I'm the yenta of Stranger Things. I think that the Duffers are so incredible with how they have an understanding of their characters, who the characters are, and how they operate. What they've written into Murray is this man who needs to uncover the truth no matter how brutal or in denial of it other people are.
That has to do with what's going on in the town, but it also has to do with people's relationships. His bullshit meter is a very on point so he can really pick up anything, and that includes when two people are not being honest about their feelings for one another.
You also spoke a lot of Russian in Season 3. Did you have to learn the language for Stranger Things?
I don't speak Russian. I learned what my lines meant and what Alexei's lines meant. I did learn the phonetics of the language, but also what the words meant. I worked with an amazing coach.
I worked on those lines to the point where I was like, oh wait, yeah, my English lines, I should learn those. That's how obsessed I got with the Russian. Once it starts to roll off your tongue, it's very addictive.
Your character Murray got to interact with a bunch of different people in Stranger Things Season 3. Who do you still want to get teamed up with if there's a fourth season?
I would love to see the culmination of Murray really witnessing the full capability of Eleven. I think the Duffers would write some very funny reactions for him. I'd also like to see him engage with all the kids in general, because they're just as smart as he is. We saw a taste of that with Murray and Erica, and even a little bit with Murray and Dustin. So it would be cool to see him have to deal with the kids.
I would also gladly have all of my scenes be with Winona Ryder. That'd be incredible. Working with David Harbour and Winona was incredible, being in that comedic trio. But unfortunately, Hopper is no more.
By now, everyone has discovered that voicemail easter egg where Murray tells Joyce he might know what happened to Hopper. How did that come together, and what does it mean?
The Duffers were just like, we wrote a voicemail message for you to do, will you do it? I didn't know what it would be used for. I don't know what it's for. You know, they wrote it and they basically were just like, we can't tell you what this means, but use your feelings for Joyce, your feelings for your mother, your feelings for other people and follow that.
But yeah, they're teasing me just as much as everybody else with what the hell is going on.
What are your favorite '80s references in Stranger Things, and which would you want to see in Season 4?
Well, when we were raiding the Russian base in the mall, it felt like very like Spies Like Us and Midnight Run, and I like those like '80s comedic references. They're all about very flawed but lovable people facing off against the evil. We kept talking about Midnight Run while we were filming that scene. In my mind, that's maybe the best buddy action comedy ever made.
I would also love to see more of the great SNL cast member from the '70s who became movie stars in the '80s get referenced. You know, your Blues Brothers, your Fletch.
Fleabag Season 2 ended on a pretty big cliffhanger for your character Martin. We may never get a Season 3, but how do you think he's handling his breakup with Claire?
"I mean, nobody's doing great. It's 'Fleabag.'
I think he could either be destitute and living in a really shitty apartment, like drunk most of the day and falling apart, or he could have sobered up and be trying to put his life back together, but of course not doing that well. I mean, nobody's doing great. It's Fleabag.
How does it feel to be on two huge shows in the same year? Do you feel like you're having a moment?
I've been working a long time and there are many things that I've done that I'm incredibly proud of, but it feels great to be recognized in this way, especially for two things that I just love and believe in so much and am so proud to be a part of.
I loved what the Duffers wrote me in Stranger Things Season 2, and I loved what Phoebe wrote me in Season 1, but both parties decided to up the ante even more in subsequent seasons to give me heavier weight to carry. I'm really grateful for their trust in me to do that, and I've gotten an insane reaction off of both shows.
What are you working on next? How do you use that momentum?
I'm developing a lot of things with Janicza Bravo, and I have some other things that are in the very beginning stages. So I'm a little hesitant to talk about it, but it feels like things are percolating. I'm really excited to keep challenging myself and growing. Just keep pushing forward, and hopefully, that includes a Season 4 for me in Stranger Things and a Season 3 for Fleabag — even though Phoebe said that she won't do it.
Have you ever thought about bringing back your web series with Tim Heidecker, Tim and Gelman Have Lunch?
We have, actually. Tim and I thought up a movie for those guys and we brought Janicza on to help develop it with us and direct it. So that's one of the projects I'm excited about. It's very much in the beginning stages, and we have not found a means to make it yet. We just started trying to get it made. So, hopefully, that'll come soon.
I love those characters, and Tim is one of the funniest of people on the planet. He and I have this effortless rapport. I mean, those characters were born out of us just hanging out and having horrible, joking conversations. It's basically us playing what either of us would be in our deepest, darkest nightmares of what we could become.
Stranger Things Season 3 is streaming now on Netflix. Fleabag Season 2 is available on Amazon Prime.