'Fleabag' Season 3 Release Date, Trailer, Cast for Amazon's Hit Tragicomedy
There's still more story to tell.
by Allie Gemmill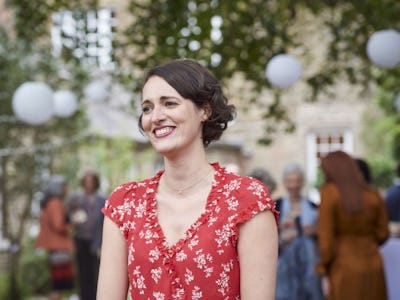 Amazon Prime Video.
When it comes to the future of Fleabag, the 2016 show that introduced us to the brilliant mind of actor and writer Phoebe Waller-Bridge, anything is possible. Season 2 of the British tragicomedy made its way to Amazon Prime Video in May 2019 and was received with tons of fanfare from the dedicated fans who'd waited three solid years for its return. So what about Fleabag Season 3?
Fleabag follows an unnamed woman (fans refer to her as "Fleabag" when discussing the show) who is dealing with some particularly strong inner demons when we first meet her. Reeling from the death of her best friend, trying to muddle through fractured relationships with her family, and seeking fulfillment from an endless series of one-night stands, Fleabag does everything she can to numb the pain of her internalized trauma without addressing it. But eventually, life barges in and demands that Fleabag does address it, often leading to both hilarious and heartbreaking results.
Here's everything we know about Fleabag Season 3, including what Waller-Bridge has said about the likelihood of a new season and where the story of Fleabag could go after the events of Season 2.
What Has Phoebe Waller-Bridge Said About Fleabag Season 3?
Currently, there are no plans for Fleabag Season 3 to move forward — but that doesn't mean Season 3 is entirely out of the question.
Speaking with The Hollywood Reporter back in February 2019, Waller-Bridge admitted, "I may be surprised again," in regards to a Fleabag Season 3 release date.
The actor, writer, and showrunner acknowledged to THR that she was surprised a second season of Fleabag came to fruition because it was only ever meant to be a one-season adaptation of Fleabag the staged play. As Waller-Bridge put it: "I decided to not to do a second season […] and I had real pride in my artistic integrity."
Addressing why it took three years to get Season 2 to air, Waller-Bridge told THR, "I needed to take space from Fleabag after that first series and the play. [The titular character's] a different person now. She's in a different stage of her life. It's not the immediate next chapter. You can delve into a whole new level of psychology and really depart from the first series."
Considering Waller-Bridge's initially adamant stance to not make Season 2 happen before relenting somewhere along the way and bringing it to TV three years after Season 1, it's not out of the question to hold onto the hope that she could feel similarly about Fleabag Season 3 even though she's expressed no interest in making it happen at the moment.
Is There a Release Date For Fleabag Season 3?
Since Season 3 has yet to be confirmed, there is currently no release date. However, the second we hear anything about Season 3 moving forward, we'll be sure to update you.
Is there a trailer for Fleabag Season 3?
Not yet, but assuming the show comes back for a third season we could get a trailer shortly before its release. We may even get a teaser announcing the renewal.
Who Could Return For Fleabag Season 3?
If Season 3 were to happen, a majority of the lead cast would return. Waller-Bridge would be back as Fleabag; Sian Clifford would return as Fleabag's sister, Claire; Bill Paterson and Olivia Colman would be back as Fleabag's dad and godmother, respectively; Brett Gelman could return as Martin, Claire awful husband, even though their marriage ended in Season 2; Andrew Scott could also make an appearance as Hot Priest.
There's also the likelihood that supporting characters like Fleabag's ex, Harry (Hugh Skinner), Boo (Jenny Rainsford), or the Bank Manager (Hugh Dennis) could briefly return in flashbacks or one-off scenes, just like they did in Season 2.
What Happened at the End of Fleabag Season 2?
Fleabag Season 2 ended on a bittersweet note. After encouraging Claire to go to the airport to go get her Nordic love interest, she said goodbye to her father (Bill Paterson) and her godmother (Olivia Colman) at their wedding reception. While waiting for the bus, Hot Priest sat down on the bench with her. The two admitted to one another that their relationship would never work out despite their best efforts and tearfully parted ways with Hot Priest sweetly telling her to never attend another service at his church again. Fleabag agreed, watching him walk off before she got up from the bench and walked in the opposite direction. As the camera went to follow her, she turned back and broke the fourth wall for the final time, holding up her hand as if to tell the audience that we weren't allowed to follow her and she needed to process what just happened on her own.
Season 2 was focused on helping Fleabag move on to the next chapter in her life. With this came a profound acceptance of the past and for her part in the tragedies that have shaped her. As she attempted to make peace with her involvement in Boo's death, she also tried to find healthy ways to love herself and find love. Granted, that didn't necessarily work out with Hot Priest but it was clear that she wanted to find romantic love that didn't numb her to her pain but actually fulfilled her.
Fleabag also reached a new level of appreciation and closeness with older sister Claire (Sian Clifford). Over the majority of Fleabag's first two seasons, the sisters weren't necessarily close so much as they were tolerant of one another. But by the end of Season 2, Claire and Fleabag were much more open with one another as Fleabag helped Claire realize her marriage to misogynistic drunk Martin (Brett Gelman) was completely over and she should go find her bliss with her coworker, also named Claire.
Where Could the Story Go in Fleabag Season 3?
If a Season 3 were to happen, we would likely see Fleabag trying to start completely fresh. She would likely be in the final stages of processing and tying up the loose emotional ends of Season 2, including forgiving herself for the part she played in Boo's death and her separation from Hot Priest.
There's a chance Season 3 would go more inward with Fleabag. She began therapy in Season 2 and even though she turned it into a joke as a means of coping, it was clear that there was some benefit to her going. Fleabag might be more focused than ever on processing her trauma and exorcising her inner demons, all of which could bubble to the surface in a new season.
Hopefully, we'd see more of an evolution in Fleabag's relationships with Claire and her father, both of which hit new levels of love, compassion, and appreciation in Season 2. Fleabag and her father were able to make peace after years of a fraught relationship following his shacking up with their godmother while the sisters were able to begin really trusting and supporting one another. Fingers crossed Season 3 would continue to show these relationships trending in a positive direction.
What Are the Odds We'll Get More Hot Priest in Season 3?
The Hot Priest fandom, which comprises a decently-sized portion of the Fleabag fandom overall, is already clamoring for more of this clerical sexpot.
Scott has been reticent to confirm if he'd ever return to Fleabag should Season 3 materialize, but he did mention to Radio Times in May 2019 that he'd been talking with Waller-Bridge about collaborating on another project in the future. So even if we don't get more Hot Priest, we may see more of Fleabag's firecracker duo at some point, which is A-OK in our books.