Amazon Prime Video Will Probably Kill Cable TV, Just Not Today
From groceries to cable programming, Amazon will distribute it all.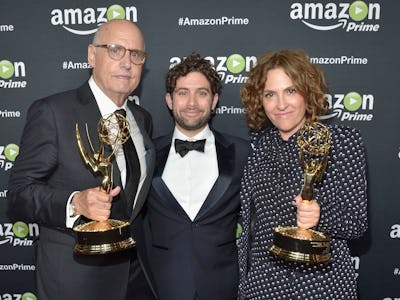 Getty Images / Charley Gallay
Amazon's move toward a fully holistic platform experience seems closer than ever, with cable TV looking like the next casualty on its way to total dominance of how we consume.
According to a report Tuesday citing inside sources, Amazon will begin offering a free version of Prime Video that's paid for by advertising. Hours later, the company denied this report, leaving it uncertain how much credence the original claims have. But it's intriguing to think about what that free service might look like, especially when it is such a natural fit with Amazon's strategies elsewhere. It looks like Amazon is going after cable TV — and maybe reinventing itself in its image.
Amazon Prime's video streaming service costs $99 a year, though that comes bundled with the company's popular suite of services like Prime's free two-day shipping. According to reports, the company is planning to shift streaming to a more Hulu-esque model, in which viewers can watch Prime Video for free in exchange for watching ads.
Prime Video already offers add-ons like the premium networks HBO, BBC, Showtime and Starz, so the move to bundle cable-like packages doesn't seem far off. Coupled with a focus on producing original prestige programming like its critically acclaimed television shows Transparent and Mozart in the Jungle and the Oscar-winning Manchester by the Sea, the combination would be a potent one if Amazon does want to offer a one-stop shop for entertainment — just like it already does for shopping and commerce.
Perhaps Amazon has learned that throwing money at streaming rights and original programming isn't a sustainable business model.
Streaming services face an ongoing struggle to create hit original shows while turning anything resembling a profit — Netflix, for instance, has taken on $1.6 billion in debt, primarily as the cost of creating shows like House of Cards and its Marvel shows. Given those costs, perhaps rethinking premium streaming to include ads instead of just isn't such a bad idea. While this may contradict the trend of millennials willing to cut wires and pay for ad-free programming, streaming habits have proven to have grey areas based on socioeconomic status.
By creating different kinds of streaming packages, Amazon can attract different kinds of users. This way, the viewers willing to sit through commercials to avoid the annual $99 Prime fee will help raise ad money to subsidize Amazon Video.
With promos airing in the middle of premium programming — much like Spotify's free music streaming options — Amazon can stand to gain more customers that may eventually "go premium" to skip advertising. This model has proven to work for services like Spotify, which doubled its paid subscribers from 30 million to 60 million within a year in 2017.
By implementing the similar free option, Amazon's race to become a fully fledged lifestyle distributor — from grocery delivery to cable show streaming and everything in between — would be near complete.
This year alone, Amazon has moved to monopolize organic groceries with its Whole Foods acquisition, along with dominating on demand delivery by its expanding Prime Now service and introducing Amazon Key.
Perhaps the last piece of the dominance puzzle will be salvaging the declining cable news industry by turning Prime Video its last savior.