Amazon's New Grocery Delivery Strategy Signals Total Food Domination
Amazon's grocery takeover doesn't stop at Whole Foods.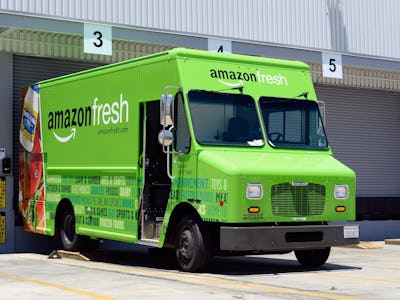 Getty Images / Kevork Djansezian
Months after spending $14 billion to buy Whole Foods, Amazon is at it again with another grocery game changer.
The company sent out an email this week to the grocery store owners and online food wholesalers who use Amazon's marketplace to fulfill orders of groceries and gourmet food. The email revealed Amazon is lowering the fee it charges sellers on non-perishable items that cost $15 or less. The fee will drop from 15 percent to 8 percent, and sellers will need to cut their own prices to match.
Amazon told Inverse that the referral fee discount is offered to sellers to help them list more products and keep prices competitive. But one marketplace seller said the change shrinks his already razor-thin profit margins.
Taha Qureshi operates the Amazon storefront Quality Grocers in Kalamazoo, Michigan. He told Inverse groceries are the one kind of product that is more still more expensive to buy online than at brick and mortar stores. That's because the online prices need to cover fees, including the $39.99 monthly fee to operate an Amazon store.
"That's how a chocolate bar that might be $7 at the store ends up being $17 on Amazon," he said.
While Amazon continues to dominate the grocery delivery scene with the help of recent addition Whole Foods, its longtime sellers are feeling the burn from the company's other changes.
Qureshi told Inverse that a lot of sellers are worried at the moment, because Amazon is making many changes to their secret algorithm that points online users toward products. He said that, as far as he can tell, the changes favor Amazon.
"Recently we noticed algorithmic changes to to their 'Buy' box, the biggest real estate item at the top-right corner of your screen," Qureshi explained. This is where the "Prime" button is typically located, usually enticing buyers with the 2-Day-Prime shipping feature.
Turns out, that very same convenience is what's hurting sellers' chances at showing up on buyer's search radar. While no one is certain what precisely qualifies for Prime items anymore, one thing is for sure, Qureshi claimed: "Amazon will always have that real estate to get the customer satisfaction and sales at the end of the day."
Initially, Amazon's marketplace began with the goal to get sellers to sell, with Amazon acting as the customers' safety net. But over time, as some sellers took advantage of the marketplace's freedom, Amazon implemented policies to limit sellers through their listings. What's going on with grocery delivery now is in some ways a repeat of Amazon's original transition from online, third-party marketplace for items like books to a massive seller in its own right.
Amazon's aggressive venture into groceries isn't just about Whole Foods, Qureshi stressed. "These days sellers don't want to put their eggs in one basket, the basket being Amazon." In his case, Quality Grocers' sales come from a physical storefront, wholesale and distribution, and an e-commerce channel, all in addition to Amazon.
"A lot of sellers I know seem to be diversifying their sales channel by augmenting sales through their website and other sites, and not depending on Amazon," Qureshi said.
"It feels like we're not being represented by Amazon, because they're very customer-centric," he added. "This is great, as we're also customer-focused, but we don't have the safety net Amazon has when it comes to losses."