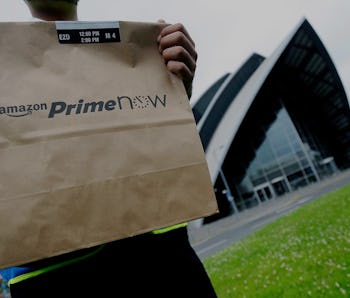 Innovation
Amazon Prime Now Just Made It Easier to Get 2-Hour Delivery. Here's the Catch
There's a fee for small purchases.
Amazon
Amazon's convenient Prime Now feature just got more tempting to use.
Prime Now — currently available in major cities and free to use for Prime customers — previously required a minimum $20 purchase for a free 2-hour delivery. Now the company has confirmed that there isn't a minimum for orders in New York City anymore, but there's now a convenience fee for orders under $35. Meanwhile, Prime Now's food delivery service Amazon Restaurants' fee jumped from $1.99 to $3.99.
The no minimum on orders only applies in select cities, including NYC. In all other cities, Prime Now has launched a new option for customers to place smaller orders.
"We are always listening to customer feedback and Prime members have told us they want the flexibility to place smaller orders," Amazon tells Inverse in an email. "So we have launched a new option that gives customers the ability to place smaller orders for a small fee."
Prime Now also includes hundreds of Whole Foods items, so in theory you can get groceries delivered within two-hours with your Prime membership.
The below-$35 fee is $4.99 for Prime Now orders. This means any order between $20 and $35 effectively just got five dollars more expensive. That may be steep enough to get Amazon users to add items to their carts to avoid paying the fee. On the other hand, if you desperately need laundry detergent within two hours, the price of convenience might be worth it.
However, for those who hate paying for delivery, it may be wiser to use their popular 2-Day delivery service.
The move comes on the heels of Amazon announcing a slash in fees for their third-party grocery sellers. The company lowered the fee it charges sellers on non-perishable items that cost $15 or less, dropping from 15 percent to 8 percent.
Amazon said that the referral fee discount is offered to sellers to help them list more products and keep prices competitive. But one marketplace seller said the change shrinks his already razor-thin profit margins.
With Prime Now aiming to become a destination for quick, convenient deliveries, it looks like Amazon's delivery strategy is alive — and evolving — on all fronts.