These Are the Highest Rated Smart TV's on Amazon Right Now
Upgrade Your Viewing Pleasure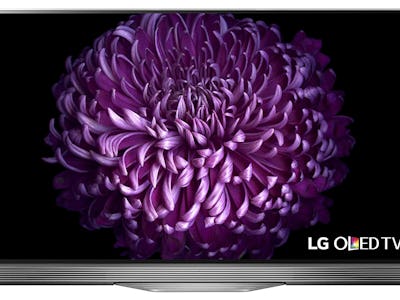 Amazon
Look, as an English major, I love to read and I love books. But I'm not above confessing my complete affinity for great TV shows and some dope indie movies. Needless to say: I watch TV. Sometimes a lot.
Furthermore, as someone who loves quality programming, there's no type of frustration that compares to the kind you feel trying to watch HBO on a 13'' laptop screen. Sigh.
That's why we took the opportunity to gather some of the best Smart TVs available of Amazon for you movie buffs and TV addicts to finally go in on. Because you can be a de Montaigne scholar and love This Is Us with zero shame.
641 customer reviews don't lie: the Samsung 55" 6 Series Smart TV is crafted to meet the perfect equilibrium of style and high definition technology. The size of the television is fully customizable, and comes in a 55, 65, 49, 75, and 82 inch screen option. With its new proprietary Ambient Mode you can enhance the style of your personal space with decorative content selections, your own photos, and background music, all included.
Our minds were made up seeing the dramatic LED screen from the picture alone. As LG's best LED TV the picture quality boasts over a billion rich colors, greater color accuracy, and more high-definition images on your television. Armed with Dolby Vision and Dolby Atmo, the LG Nano Series creates a vivid picture and powerful audio that seems to flow around you. It can also connect with your choice in popular voice assistants. LG TVs are proudly the first to integrate both the Google Assistant and Amazon Alexa with their own LG ThinQ AI technology.
A #1 in new releases, this is a can't miss, especially during Prime Week. Fire TV Edition brings together live-over-the air TV, and your favorite streaming content on the home screen. Connect any HD antenna (sold separately) to watch live over-the-air TV, or stream movies and shows from Netflix, Prime Video, Hulu, HBO and more. With the fan-favorite TOSHIBA 4K Ultra HD Smart LED TV, Enhanced 4K Dolby Vision HDR picture with an expanded range of contrast and superior brightness.You can watch all your fave movies and TV shows in luxury 4K HD, since it is compatible with popular streaming options like Prime Video, Netflix, HBO and PlayStation Vue.
An Amazon's Choice select, this other LG option gives you smart functionality gives you access to your favorite apps and content using built in WiFi connectivity. The LG 55 expertly pairs 4K Ultra HD picture clarity with the contrast, color, and detail of High Dynamic Range (HDR) for the most lifelike picture. One big plus? The OLED pixels are individually lit and provide the crisp contrast for an optimal viewing experience.