All the Comic-Con Trailers, Announcements, and Surprises
San Diego Comic-Con 2017 was chock full of trailers and fan treats.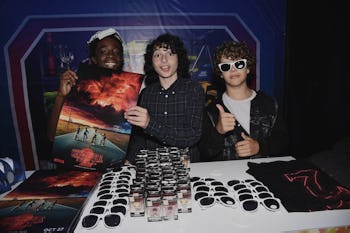 Eric Charbonneau
If you weren't paying close attention to social media this past weekend, you probably missed a lot of new information about your favorite shows and upcoming movies. San Diego Comic-Con 2017 was packed with stars and a ton of new information; too much information for most of you guys to reasonably catch. So, we thought we'd put everything together in one convenient place.
Below, you'll find a list of every big trailer and teaser and every huge hint you might have missed at SDCC. There's a lot, and while not every trailer was revealed online, including a highly anticipated look at Avengers: Infinity War and new footage for Black Panther, there are still plenty of superheroes to be stared at and action to be witnessed.
So, here's everything you missed at San Diego Comic-Con 2017 — mainly the trailers because, let's be honest, we know that's what you really came here for.
19. Kara questions her superhero identity in the new Supergirl trailer.
18. DC's Legends of Tomorrow Season 3 finally has a trailer.
17. Slade isn't to be messed with in Arrow's new trailer.
16. Caitlin might be back on team flash in a new The Flash trailer.
15. Doctor Who's 2017 Christmas special, Peter Capaldi's last run as the Doctor, got a trailer.
13. The Hosts take revenge in the first Westworld Season 2 trailer.
12. Will Byers is having a tough time in the Stranger Things Season 2 trailer.
8. Marvel's The Defenders team-up got a new trailer.
1. This Infinity War poster revealed Spider-Man's wearing his new Stark suit.