'Westworld' Season 2 Comic-Con Trailer is Full of Cheery Death
The trailer caught everyone by surprise.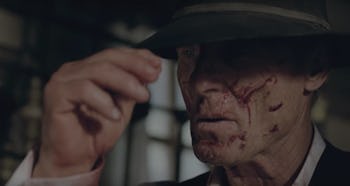 HBO/ Youtube
We don't know a lot about what's going down in Westworld come Season 2. But during Saturday's panel at San Diego's Comic-Con, a surprise trailer unveiled some hints about what we can expect to see. One clue: some angry robot revenge, and whole lot of blood.
On stage, co-creators Jonathan Nolan and Lisa Joy started off the panel by fielded questions about filming and the character arcs in season 1! As is the trend in panels nowadays, a huge number of the cast joined them onstagel, including Ben Barnes (Logan), Ed Harris (the man in black), Ingrid Bolsø Berdal (Armistice), Evan Rachel Wood (Dolores), Thandie Newton (Maeve), and more.
Things kind of just mellowed on for most of the discussion; Evan Rachel Wood talked about feeling empowered in the role of Delores, and Nolan dodged an audience question about the 'Samurai World' theme that fans have theorized since they thought they glimpsed a hint of another theme park at the end of Season 1.
And then, for the grand finale, we got an asskicker of a trailer out of nowhere. Set to Sammy Davis Jr.'s "I've Gotta Be Me", the teaser show off a horse-riding, gun-slinging Delores and a lot of guest corpses. Judging by this, Season 2 will be a bloodbath, and a gleeful one at that.
Watch the trailer below: