Marvel Unveils Epically Evil 'Thor: Ragnarok' Trailer at Comic-Con 
We get a way better look at Cate Blanchett's Hela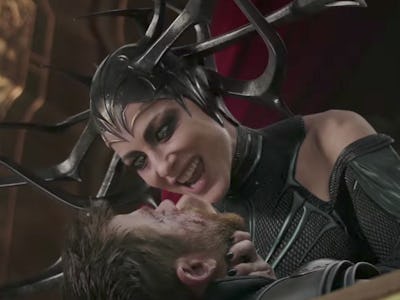 Youtube
There's a lot to be excited about coming out of Comic-Con this year, but Marvel's Saturday panel remained one of the most anticipated events of the entire weekend. And it delivered, with a great new look at Thor: Ragnarok.
But first, Paul Rudd and Michael Peña appeared onscreen recapping the Marvel Cinematic Universe, and revealing that Michelle Pfeiffer will be playing Janet Van Dyne in Ant-Man and the Wasp.
Next, Kevin Feige, the president of Marvel Studios, took to the stage, mentioning that Pfeiffer was "our dream choice when making the first film." That is some great side info Feige, but enough about that.
On to the good stuff: Thor: Ragnarok. Taika Waititi, Chris Hemsworth, Tom Hiddleston, Mark Ruffalo, Cate Blanchett, Tessa Thompson, Karl Urban, and Jeff Goldblum all joined Feige on stage.
After Hemsworth joked that Thor "gets his ass kicked" in the new film, and Ruffalo noted that the Hulk is enjoying his time kicking lots of ass on the planet Sakaar, fans were treated to a new trailer for the upcoming film. In it, we get a way better look at Cate Blanchett's Hela, who is introduced as "the goddess of death."
What else did we learn? Jeff Goldblum's Grandmaster is the brother of the Collector (Benicio Del Toro) and an elder of the universe. Valkyrie, a warrior from Asgard, is also on Sakaar for a reason that can't be divulged.
Thor: Ragnarok hits theaters November 3.