'Stranger Things' Season 2 Comic-Con Trailer Shows Eleven's Escape
But no sign of Barb unfortunately.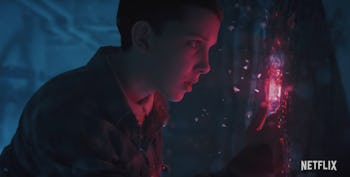 Youtube/ Netflix
The hype was high moving into Neflix's last panel of Comic-Con weekend. The streaming giant had already been teasing fans of the horror-tinged show with a creepy VR experience and shrine dedicated to Barb on display at Netflix's Hilton headquarters. Once underway, the panel itself delivered, with a brand new Stranger Things trailer that teased at how the show will progress in Season 2.
The panel was hosted by Patton Oswalt, and included directors (and brothers) Matt and Ross Duffer as well as the whole cast of kids and David Harbor. When Millie Bobby Brown took the stage, the crowd gave her a huge applause.
After saying that their dream for Stranger Things was for it to feel like a long, Steven Spielberg-esque movie, the panel finally unveiled the first full trailer for Season 2. It's an awesome blend of campy, '80s horror nostalgia: Ghost Busters costumes, "Thriller" as the soundtrack, Steve wearing Ray Bans, and Reagan/Bush '84 campaign signs. It also signals some cool things to come, narrative-wise.
For one thing, Will seems to be intimately connected to the Upside Down, with visions (or are they?) of the terrifying dimension criss-crossing with his own reality. We see vast expanses of the Upside Down version of reality, with freaky red skies full of storms and a spider-like monster.
There's also a strong indication from that the Upside Down — and its terrifying monster — is possibly coming for our world. "Whatever's happening, is spreading, from this place," we hear Hopper say.
We also see that maybe all those Eggos payed off, as it looks like Eleven has found an escape hatch out of the Upside Down. After pushing her hand through a glittery, pink hole, it looks like she'll be able to break through and end up back in the school.
Watch the trailer below:
Stranger Things Season 2 will premier on October 27 on Neflix.