'Doctor Who' Christmas Teaser Reveals Big News About Pearl Mackie
It answers a big question from the end of last season.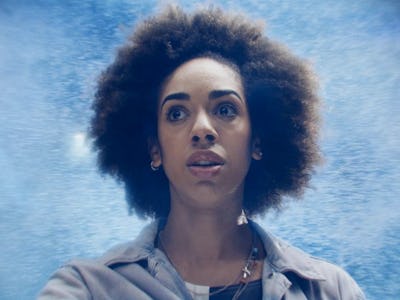 Doctor Who
Doctor Who fans at San Diego's Comic-Con got some sweet news on Sunday, when a panel for the sci-fi stalwart series premiered a teaser of the Doctor Who Christmas Special, as well as a trailer of Peter Capaldi as the 12th Doctor.
As fun as it was watching Capaldi's many shining moments over his impressive tenure as the Doctor, the best panel reveal came from the Christmas teaser, which at the very end gives us a glimpse of Pearl Mackie's Bill Potts.
Mackie's fate remained up in the air at the end of last season, and we didn't know if she was going to be off the show or would return. The special's teaser confirms Bill is back, if only for a moment. We won't reportedly won't be seeing her again in the next full season.
The Christmas episode, titled "Twice Upon a Time," will be Capaldi's last run as the Doctor, before handing over the role to Jodie Whittaker for the following season.
The teaser also reveals Mark Gatiss in a guest role; he'll play a World War One soldier, known only as "The Captain" for now.
Watch the brand new teaser and as well as a trailer of Peter Capaldi as the Twelfth Doctor below: