'Doctor Who' Fans Sound Off About Pearl Mackie on Twitter
Fans love the Season 10 premiere.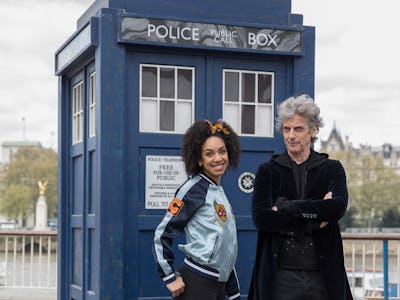 Getty Images / Tim P. Whitby
Doctor Who Season 10 premiered on Saturday, and it looks like Peter Capaldi's final season as the Doctor is off to a promising start. It begins with the Doctor as a lecturer on physics and poetry — because of course — who takes a food service employee under his tutelage. Reactions from Twitter fandom are nearly unanimous: "The Pilot" is a serious banger of an episode, coming out of the gate much stronger than most Doctor Who season premieres.
Season 10's uniqueness also extends to the Doctor's new companion, Bill Potts (Pearlie Mack), who is the show's first queer black companion. And while some critics say Bill is a lesbian character made for straight men, fans across the gender spectrum seem excited about the compassionate, well-rounded portrayal of a queer main character. Plus, Bill's sexuality will be an interesting change of pace for a show whose fans tend to "ship" the Doctor and his companion.
And while the new season marks that momentous "first," it also brings a notable "last": Showrunner Steven Moffat will take his last bow at the end of Season 10. Moffat will hand the reins over to Broadchurch creator (and longtime Doctor Who fan) Chris Chibnall, whose first season as showrunner will air in 2018.
Here's what fans are saying about the premiere:
"The Pilot" Is a Solid Start to Season 10
It's a Rare "Belter" of a First Episode
There's Great Chemistry Between Bill and the Doctor
The Doctor Already Cares Deeply About Bill
Fans Already Love Bill, Too
Pearl Is a Gem
Fans Are Excited to See What Comes Next for Bill
Fans Are Thrilled to See a Sensitive Portrayal of an LGBTQ Character
Fans Are "All In"
We Get it! Pearl Mackie Is Amazing!
Bill Potts Feels Well-Developed From the Get-Go
Call Me Mackie?
Pearl Mackie May Be Outshining Her Fellow Companion
Pearl Mackie Is Feeling the Love
Doctor Who airs Saturdays on BBC and BBC America.