Everything We Know About the Tesla Model 3 
The Tesla Model 3 is set to be released July 1.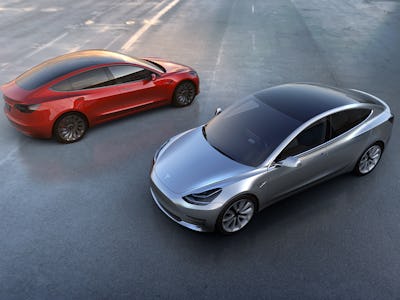 Tesla
The Tesla Model 3 is maybe the most anticipated electric car in history. Its Autopilot self-driving system promises to only improve, thanks to software updates to the hardware, and at $35,000, it won't break the bank, which explains an estimated 400,000 preorders. But there's one big question: will it be released on time?
Tesla CEO Elon Musk set July 1 as the day when the Model 3 will begin mass production. But with design changes, a recent history of missing deadlines, and production delays, it's unclear if Tesla will hit Musk's ambitious deadline; an "impossible date." Below's an updated newsfeed of Tesla Model 3 updates.
Updated May 1, 2017
A new sighting of the Model 3 reveals more photos of the white model. These really show off some of the design choices Tesla has made to make the car as aerodynamic as possible. A lower drag coefficient means longer range per charge, which means a smaller battery to reach the same range levels.
Updated April 28, 2017
The Tesla Model 3 has been spotted 25 miles away from the company headquarters, and this time, it's in a rather fetching white. The photo was posted up to Instagram on Friday, and the poster said it "looked even better from the front." Deliveries can't start soon enough.
Updated April 26, 2017
Another release candidate Model 3 has been spotted in the wild. This time, it appears Tesla has made some design tweaks that bring it more in line with the Model S and Model X.
Updated April 25, 2017
Tesla is skipping a key step to ensure the Model 3 is released on time. The company will eschew the standard "soft tooling" stage, where non-permanent tools are used for initial production, and skip straight to more permanent parts.
Updated April 13, 2017
New research suggests the Model 3 will have a tough time in the marketplace once federal tax credits end. Tesla has already poured a large amount of effort into bringing costs down, but analysis from Edmunds shows that the Model 3 could suffer as its target audience is far more price conscious.
Updated April 7, 2017
Tesla has issued a statement reiterating that the Model 3 is not an advanced version of the Model S. A response to Wednesday's speculation about the extra sensors? It's possible.
Updated April 5, 2017
The Tesla Model 3 could feature a more advanced Autopilot system. A new release candidate model has been spotted near the company's headquarters, and fans have spotted an extra pair of sensors around the rear C-pillar of the car. Analyst Adam Jonas has speculated the company could be underselling the Model 3 to avoid eating into Model S and X sales, so it could make sense.
Updated March 30, 2017
Musk has given a little more detail about the Model 3's speedometer. The car will show the speed on the central screen as an overlay, changing opacity depending on relevance.
Updated March 28, 2017
On Twitter Tuesday morning, Elon Musk squashed rumors that the Model 3 could have a speedometer hidden in the dashboard. The car has a single computer display in the center of the dashboard, but fans speculate there could be a simple set of extra measurement displays on the driver's side. Musk responded to a fan's query with a flat "no."
Updated March 24, 2017
Elon Musk released a slew of news on Friday about the Model 3. He released a new video of the Model 3 release candidate driving down the street, the first glimpse we've had of the car in action.
Musk also clarified that the Model 3 will be cool, but it's not a new generation of Tesla. It's essentially a Model S, minus the premium-level features.
A new report from Morgan Stanley analyst Adam Jonas released Thursday claims that the Model 3 will have "superhuman" safety that makes it ten times safer than normal cars. It might not be all it's cracked up to be, though, as car experts believe higher degrees of autonomy that still depend on the driver staying alert could be more dangerous than less advanced technologies.
Updated March 23, 2017
New York State released details of its Drive Clean Rebate program on Wednesday, offering up to $2,000 off the price of a new electric vehicle. Vehicles that have a range of over 120 miles according to the EPA will receive the full amount, but with a catch: the car must have a manufacturer's price lower than $60,000. This means the Model S and Model X are only eligible for $500 off, while the Model 3 should qualify for the full amount.
Updated March 22, 2017
A new report suggests Tesla could face a more critical group of owners with the Model 3's release. The J.D. Power report released Tuesday shows Model S and Model X owners are more likely to overlook their car's flaws as they are happy to take the risks on new technology. Price-conscious Model 3 owners may be less forgiving.
Updated March 21, 2017
A crowdsourced Model 3 order tracker has revealed the most requested upgrade features by U.S. state. Model3Tracker, which takes input from reservation holders around the world, found that 67 percent of respondents want Autopilot upgrades, with the feature particularly popular in the south.
Updated March 16, 2017
Tesla announced on Wednesday that it is offering $250 million in common stock and $750 in convertible notes ahead of the Model 3's debut. The company is planning to ramp up production to ambitious levels, so the extra stock will be needed to reach its goal of $1 billion to fund production.
Updated March 10, 2017
A Tesla Model 3 prototype has been spotted by the SpaceX hyperloop test track. The video follows on from a prototype's appearance at the Gigafactory in January, and shows the company's building up the public appearances ahead of the car's July production date.
Updated March 3, 2017
It's still unclear where the Model 3 speedometer will go, as Elon Musk has already said that the car will only have one display compared to the two found in the Model S and X. Matt Parra thinks he has the answer, and he's created a mockup that shows it could be something more low-tech.
Updated March 2, 2017
Ahead of the Model 3 launch, Tesla has updated its website with a new live chat support system. It's ideal for companies that have large numbers of customers, and with the company vying to produce around 250,000 Model 3 cars by next year, it's going to need all the help it can get.
In the company's annual report, Tesla has also given a list of six assumptions the company is making about Model 3 production. Any of these six factors could cause delivery delays.
Updated March 1, 2017
A new endorsement from Consumer Reports is great news for the upcoming Model 3 release. This week, the publication gave Tesla an overall score of 73 out of 100, making it the highest-rated American car brand.
Updated February 28, 2017
Tesla's stock took a dip by five percent on Monday, as investors don't seem confident that Elon Musk will be able to hit the deadline on the Model 3. Reaching $244.52, the dip followed a downgrade by Goldman Sachs analyst David Tamberrino to "sell."
Updated February 22, 2017
Musk confirmed in Wednesday's earnings call that the Model 3 is "on track" to start initial production in July. The Tesla CEO also outlined his plans to mass produce the Model 3. The Fremont facility should be producing around 5,000 cars per week by September, eventually doubling that rate.
Updated February 21, 2017
Tesla will hold its fourth quarter 2016 earnings call on Wednesday, and reservation-holders and Tesla geeks alike will be waiting to see whether the company drops any new information about the Model 3. Musk may give more detail about that July deadline, or explain the current progress of the Gigafactory that's crucial to Model 3 production.
Updated February 17, 2017
Although it's not an official Tesla render, this imagining of a Tesla Model 3 convertible is going viral on Tesla fan forums. We are still waiting to see final production versions of the Model 3.
Updated February 10, 2017
It looks like the Model 3 logo might be changed after Tesla has settled a legal challenge by Adidas, whose lawyers successfully argued that the three stripes of each "likely to cause confusion" and both logos are "virtually identical." It's safe to say the brake pedal logo will be changed.
Updated February 9, 2017
Tesla shut down the Gigafactory for a week to get ready to start pilot production of the Model 3 on February 20th. However, Tesla fans are anxious that a pilot production start so close to the July 1 release won't be long enough to iron out production and release the Model 3 on time.
Updated January 17, 2017
"…Tonight, I am pleased to announce that Tesla will expand its investment in Nevada by producing the electric motors and gearboxes for the Model 3 at the Gigafactory," says Nevada Gov. Brian Sandoval. The Gigafactory will be the heart of Model 3 production.
Updated January 12, 2017
New Model 3 prototype photos hit the Instagram after a Gigafactory event, confirming that despite the relatively low cost, the Model 3 looks very slick.
Updated November 17, 2016
Elon Musk announced that the Model 3 (and all new Teslas) will be made with all of the hardware necessary for full autonomy. Musk also teased a third Model 3 reveal, saying "Today is not the time for that announcement, but, I mean — it's probably, yes, I don't know, beginning of spring or something like that, yes."
The Model 3 is the first Tesla that could be considered relatively affordable. It boasted the largest product launch ever, with 325,000 people reserving a Model 3 in the weeks after it was unveiled in April. Since then, the photos of the prototypes have driven up the numbers. Musk told investment analysts during an earnings call that Tesla is "anti-selling" the Model 3.
This article was originally published on February 17, 2017