'Consumer Reports' Says Tesla Is the Best American Car Brand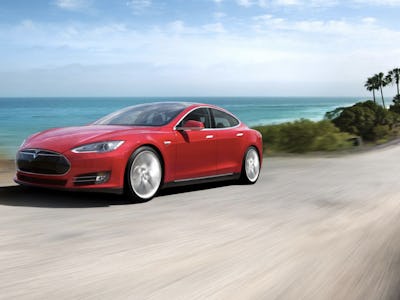 Getty Images / Justin Sullivan
It's official: Tesla is the best American car brand of 2017. Consumer Reports, a product review site which has at times had a rocky relationship with Tesla, nevertheless gave Elon Musk's car company a score of 73 out of 100 based on its comprehensive ranking system overall. And Tesla did even better on the road test ranking, scoring a staggering 88 out of 100 and tying with Porsche for the top slot. Of the 31 brands Consumer Reports ranked, Tesla placed eighth overall.
The top 10 ranking goes:
Audi (Overall 81, road test 86)
Porsche (Overall 78, road test 88)
BMW (Overall 77, road test 86)
Lexus (Overall 77, road test 74)
Subaru (Overall 74, road test 81)
Kia (Overall 74, road test 77)
Mazda (Overall 73, road test 75)
Tesla (Overall 73, road test 88)
Honda (Overall 72, road test 77)
Buick (Overall 72, road test 72)
Tesla has traditionally blazed through the Consumer Report rankings, with a few major speed bumps. In August 2015, the publication showered praise on Tesla for the Model S P85D, giving the vehicle a score of 103 out of the normal limit of 100. As the original Model S scored 99 out of 100 two years prior, Consumer Reports had to come up with a new rating system to show just how much the new vehicle improved on the old one.
It didn't last, though: by April the following year, the publication was raining concerns that early Model X customers were experiencing quality control issues with their new cars. Issues included problems with the falcon wing doors, headlight distortion, and Autopilot issues.
"Such issues are expected from a brand-new model," Mark Rechtin wrote on the publication's site. "Consumer Reports recommends against buying a vehicle in its first year of production."
The small number of Tesla models in production is now seen by the publication as a positive, as it's allowed Tesla to focus more on getting a few models to perfection and thus earn a higher score. As the company gears up to release its $35,000 Model 3, aimed at a wider audience than the Model S and Model X, lessons from the previous models will prove valuable for establishing brand trust with the mass market.