Tesla Scores 103 out of 100, All Scales Are Now Broken Forever
The new Kanye is totally gonna get a 10.3.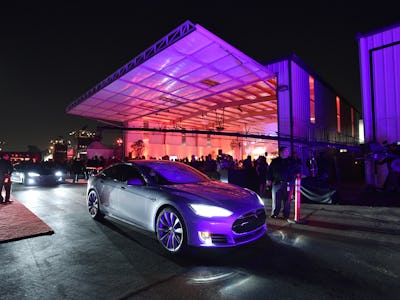 Getty Images
Tesla's latest vehicle is so tight that it outgrew Consumer Report's rating scale. In a video posted to its site, the org admits, "Tesla P85D Broke Consumer Reports' Rating System." This is amazing, the no-bullshit equivalent of Spinal Tap turning itself up to 11. The conversations at Consumer Reports must've been a hell of a thing to come to this decision. Like, I know we only go up to a hundred. I know this. I'm only saying, What if we didn't?
This is what happens when Tesla scores a 99 for its Model S and then makes an even better car a couple of years later, a $128,000 marvel that goes from 0 to 60 mph in a preposterous 3.5 seconds, and which doesn't burn any gas in doing so. "This fully electric car is a glimpse into the future of the automotive industry," the review states. Forget the fact that the magazine's old rating system is now obsolete — sure makes the next 99 look like a piker, no? For a moment, let's consider how expanded ratings might look in other fields.
A bottle of Pétrus garners a 103 from Robert Parker, who writes, "The grapes must've been harvested by Oompa Loompas wearing the finest silk gloves."
The Denver Broncos beat the Seattle Seahawks so mercilessly in Super Bowl 50 that the NFL grants them three wins to start the next season … or just suspends Tom Brady for four games.
Pitchfork awards Kanye West's album I'm Better Than You — featuring Animal Collective, Ariel Pink, and Deerhunter — a 10.3. "If Kendrick Lamar had been on it," the reviewer gushes, "each one of his verses would've been worth another tenth of a point."
Russian River and the Alchemist band together to brew Pliny the Topper. Beer Advocate's staff shuts down website to drink it for the rest of their lives. A note on the side clarifies: "Our scale has always been based on how much a given beer rates against MGD."
The Kansas City Royals win the 2015 World Series in two games. MLB umpires halt the proceedings, noting, "Nobody is watching this shit anyhow."
Movie critics across the globe agree that A Confederacy of Dunces starring Louis C.K. is the greatest film of all time, netting it a 103% on Rotten Tomatoes. (A.O. Scott proclaims, "This movie is A.O.K.!")
A new Thomas Keller restaurant, U.S.A. Laundry, receives four Michelin stars. Zagat writes the "rustic post-industrial fusion landmark" is so good it "ruins eating for those not lucky enough to eat there three times a day" and suggests remaining at your table "from a late lunch reservation through an early dinner."